In 2010 OSHA stepped up enforcement actions against printing companies due to "persistent high levels of amputation" in the industry. (Details here in a previous Bindery Success blog post.) Early data from OSHA reports suggest a positive trend.
From 2002 through 2009 there was an annual average of 1.9 fatalities and 11.6 serious injuries investigated by OSHA (with a low of 7 injuries in 2008 and a high of 16 in 2007 and 2003). In 2010 however, there was only 1 injury and 1 fatality.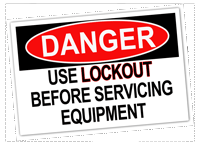 The most frequently cited violation for commercial printers these days is the lockout/tagout standard 1910.147, The Control of Hazardous Energy. (data for Oct. 2010 – Sept. 2011) Circumventing safeties, guards and lockout procedures is of course the quickest path to a higher rate of injury among press and bindery equipment workers. Although equipment these days is well designed and safe when operated correctly, danger lurks when you try to beat the safeties.
The top five violations:
19100147 The control of hazardous energy (lockout/tagout).
19101200 Hazard Communication.
19100219 Mechanical power-transmission apparatus.
19100212 General requirements for all machines.
19100178 Powered industrial trucks.
One typical example is the worker who had fingers amputated while working around a stacker. The guard's safety switch had been deactivated and the worker decided to clear a paper jam, with the guard up and the stacker still running. He lost two fingers when his hand was pulled into the running machine.
I worked with a young pressman who was permanently disabled on a press while washing up using an unsafe procedure. I met a cutter mechanic who lost an arm during a pre-OSHA cutter repair. Another colleague, an experienced guillotine operator, accidentally walked into an exposed knife edge during a knife-change operation. No serious injury there, but it could have been much worse!
Injuries and fatalities are bad enough but there are also fines involved with each violation. The average fine for the lockout/tagout violation was $1726, with an average of 2 citations per inspection location. The second most cited violation for this same period was standard 1910.120 Hazard Communication, the purpose of which is to "is to ensure that the hazards of all chemicals produced or imported are evaluated, and that information concerning their hazards is transmitted to employers and employees."
An important feature of these and most other standards is the training requirement for employees. If you don't have a system for training and educating with regard to the standards, then you might be in violation even if all your equipment is in perfect order.
So even though we seem to be on the right path, it's a good idea to not let your guard down (pun intended) especially with continuing increased scrutiny.
While it may seem a daunting educational and training task, the good news is that OSHA offers a free interactive training program online, at http://www.osha.gov/dts/osta/lototraining/index.html. You don't have to create a training program from scratch, at least with regard to lockout procedures. They also offer numerous worker training classes, grants and resources at http://www.osha.gov/dte/index.html. It takes a little research but there is a lot of content and assistance available.
The Printing Industries of America also offers assistance with several resources listed here at http://www.printing.org/osha and http://www.printing.org/news/6215
As always we welcome your comments and suggestions below. Stay safe!