Bindery Checklists and Forms for Operators and Supervisors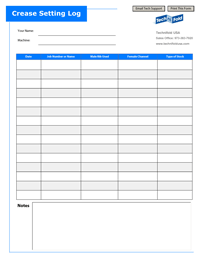 Crease Setting Log
Use this handy form to keep track of Technifold crease settings. No need to start from scratch every time you set up a job!
Keep track of info for single or multiple shift operations.
Great for recurring jobs or repeat stocks.
Use with any Technifold creasing products.
Print the form out to use good old fashioned pen and paper, or save and enter info in digital format.
Click Here to download pdf file.
(191kb, Adobe Acrobat 7.0 or higher required to use document in a digital format.)