Saddle Stitching Scoring with the Spine-Creaser
Simply the BEST option on the Market Today!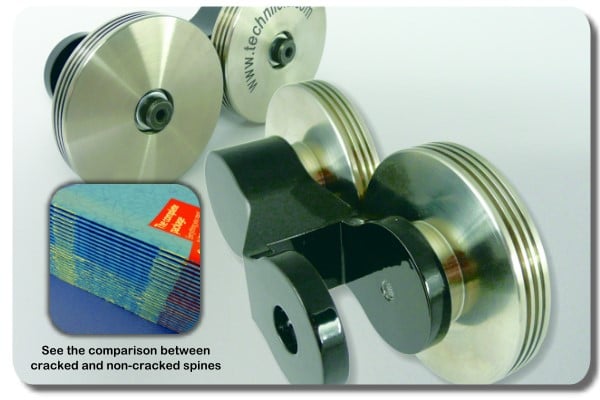 It's like substituting your cover feeder for a


Heidelberg

cylinder letterpress...
...the Spine-Creaser is that special!

Installation is simple...

Using a set of

allen

keys, your operator only needs to remove the existing score wheel from the cover feeder, apply the creasing matrix to the drum and attach the new double-wheel
Spine Creaser
with a single bolt. You are ready to begin producing a perfect crease on your saddle stitcher within
30 minutes
of installation!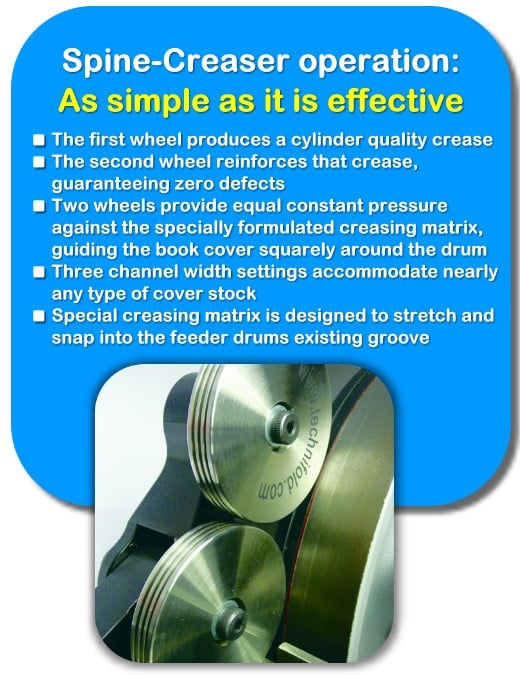 Why should you try the Spine-Creaser?
Totally eliminates fiber cracking 100% on cover stocks
Totally eliminates ALL off line scoring for your saddle-stitched books
Totally eliminates ALL outsourcing of creasing operation


....keep it all in your control!
Saves your die cutters or printing presses fro more complex, profitable work

Faster delivery to your customers!

Which Saddle Stitchers can use the Spine Creaser?
Fits the following types of saddle stitching machine cover feeders:
Heidelberg machines (including ST90, ST100, ST300, ST350, ST400, ST450 and Prosetter) Muller Martini, McCain, Harris, Macey, Sheridan, Osako, Horizon and Hohner.
Check out these time saving tips from our Blog!!