Scoring Book Covers on Perfect Binder
Cover Feeders with the Spine and Hinge Creaser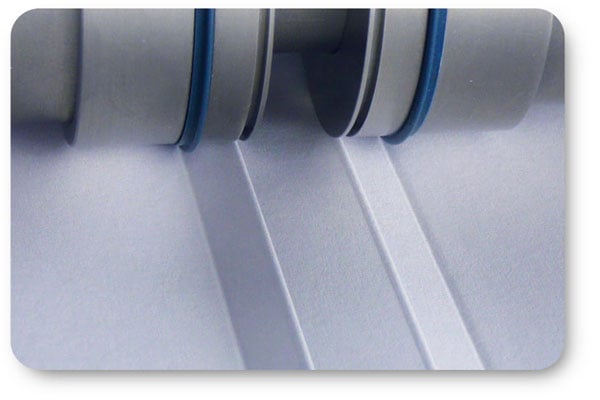 Do you score perfect bound book covers offline?
Do you simply need a better crease on your cover feeder?
Do customers complain about your book covers?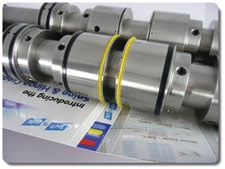 Now you can produce up to 4 simultaneous letterpress quality creases on your perfect binder's cover feeder.
Get the control over your cover feeder you need to produce the results your customers want using the Spine and Hinge Creaser.
Eliminate Separate Scoring Operations
If the scoring device on your cover feeder falls short, or you find yourself doing a separate scoring operation to handle covers, upgrade your perfect binding machine with the same patented Technifold technology made popular for folding and scoring machines.
Fast Installation
The Spine and Hinge Creaser components slide right on the cover feeder shafts and require no machine modification. Most devices have 2 or more creasing ribs to handle a wide range of cover stocks. Our most popular Spine and Hinge Creaser for Muller systems has up to 6 creasing rib styles available and an infinitely variable female channel width adjustment for the ultimate in scoring flexibility.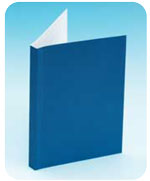 Here Are Just a Few Benefits...
Eliminates fiber cracking regardless of grain direction
Crease quality comparable to letterpress or die score
Effective on digital stocks
Gets jobs delivered faster
Eliminates outsourcing or separate scoring/creasing operations
Fast ROI, typically paying for itself in 3 to 5 jobs or less
Crease from either side of the sheet as needed
Split ribs means fast crease changeover when changing stocks
Unique Features...
Patented Split rib design means fast changeover
NEW Nylon ribs designed for laminated and UV stocks
Variable hinge width adjustment on some models
Infinitely variable female channel width adjustment on popular models
Flexibility to score from 1 to 4 lines simultaneously
NEW Layflat 6-Crease version available for Muller and Kolbus
Compatibility...
Fits the following types of perfect binder cover feeders:
Muller Martini, including Normbinder, Star Binder, Acoro, Corona, Bolero, Panda, Pantera and Trend Binders
Kolbus, including Kolbus 470 and Kolbus 473
Harris UB Binder, older and newer models with 1.5" or 30mm shafts
Wohlenberg including City, Champion and Golf Binders
Horizon BQ470
Would You Like to Learn More About the Spine and Hinge Creaser?
Click Here for Details and Return on Investment Scenarios
Be Sure to Check Out the Bindery Success Blog!