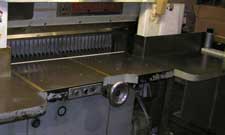 I was trained on a paper cutter that I'm certain was possessed. This big, ugly, leaky, noisy, old cutter (which shall remain nameless but is similar to the photo) had "safeties" which were anything but safe. Yes, you had to have both hands on the buttons to cycle the machine---but you didn't have to keep them there. As soon as the cycle started I could pull my hands away to grab stock. Yes, the knife would stop at the top of the cycle like it should have...as long as I let go of the buttons at the exact right split second (I got very good at that!) Otherwise it would stop a little bit past the top with the knife edge exposed past the clamp.
Some days, it would just start cycling on it's own. I could be jogging stock when out of nowhere the knife would come down, cycling faster and faster without stopping, cutting through whatever was on the table until we could cut power. After it stopped, we'd reset the clutch and it was 'safe' again.
Which brings me to a very important point that could affect your printing operation: According to the Printing Industries of America, "OSHA has announced three enforcement efforts that
impose increased obligations on employers and result in increased penalties for violations
." You can
read all the details here
on the PIA website.
OSHA is taking this three-pronged approach due to "persistent high levels of amputations." Two of the new rules apply to persistent violators but the third applies to ALL printing employers. "Under the rule,
OSHA
would require employers to create a plan for identifying and remedying risks associated with hazards and OSHA violations." Penalties under the new rules are skyrocketing, with
OSHA
saying the average penalty for a serious violation will go from $1000 to the $3-4,000 range! The catch is that their definition of a serious violation has changed...it's broader, and it might now include many unsuspecting printing and bindery operations. Don't let this one slide.
Printing Industries of America
can help.
And by the way, after many unsuccessful attempts at repairing the demon cutter, we did replace her with a beautiful, computerized...and safe...
Polar
.