As regular as the arrival of fall, there is a persistent myth that drifts around the post-press aisles of Graph Expo. This year was no exception. Its source is any of a number of well-meaning fellow exhibitors. Typically an attendee will approach with creased sheets in hand, breaking the bad news to us: "So-and-so says knife creasing is the only way to crease a sheet. Rotary creasing does not work."
I'm certain the entire rotary converting industry would be surprised to hear that their rotary creasing methods don't work! Every day rotary die cutters are producing a countless variety of packages, on all types of paper and other printed material, which are cut, creased and folded at extremely high speeds, often in-line with web offset or flexo presses. Supermarket shelves are full of examples which are perfectly creased using rotary creasing methods.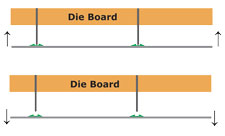 The fact is this: there are two types of creasing methods—knife (also called platen) and rotary. In knife creasing, the flat sheet is positioned between the knife (creasing rule) and a platen (flat plate) [photo at left] so that the sheet is compressed into channel. In rotary creasing, the sheet passes between two cylinders (one with a creasing rule, the other with the female channel.) In some machines the sheet remains flat; in others it wraps around a cylinder.
The important, relevant fact is that both methods work. If you've been around the printing industry a while, you're probably aware of both methods. That's why this particular myth is passed along to unsuspecting customers who are relatively new to the industry or to managers without post-press experience, typically folks researching the purchase of digital printing and digital print finishing equipment.
Myths and mis-information do not help customers make informed decisions and it makes the vendor look bad when the truth comes to light. Our collective goal as solution providers, no matter what we're offering, should always be that of helping the customer.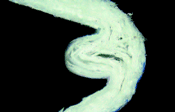 The reasons why this myth circulates don't really matter, especially when you focus on what defines a creased sheet. Creasing refers to the internal de-lamination of a sheet by compression along the line where folding needs to occur. (photo at right, from Sappi Paper report) This effectively creates a "paperboard hinge" according to Kevin Carey of DieInfo.com and a packaging industry expert on creasing. When the sheet is bent (folded) at the crease, all the outward force that normally would split or crack the sheet is directed inwards towards the weak, delaminated line. As the fold continues, the sheet further de-laminates internally and a rounded bead is formed on the inside of the fold, absorbing all the force internally, while the outside of the folded piece remains smooth and unbroken.
So, if you make all these things occur in a sheet, if it delaminates internally, if it has a smooth rounded bead on the inside, and if the outside of the fold is smooth and unbroken, then you have a creased sheet. Results that meet the criteria are what matter. End of story. The manner in which it was creased makes absolutely no difference.
According to an independent Sappi Paper Knowledge Bank report on folding and creasing, "using the recently developed 'channel score' creasing device [the Tri-Creaser] we achieved an optimal result in the creasing and folding test, even with high basis weights such as a 350 g/m Hanno Art. The quality of this creasing is comparable with that produced in letterpress printing and retrofitting to the folding machine incurs relatively low costs."
So every year at Graph Expo, in our own Mythbusters® fashion, we duly take the sheets presented to us and we do what the myth purveyors say is impossible…we crease them in rotary fashion. Thus begins an intelligent conversation with the customer regarding the pros and cons of each method and an analysis of what will be best for their particular print finishing operation.
Lazy salespeople who spread myths in order help their sales effort would be much better served by sharing facts and by using accurate thinking to analyze the bindery customers' real needs. If for example, they said that some of the old-style folding machines scoring tools don't do the job, they would be back in the realm of truth. [For a related discussion of the difference between 'creasing' and 'scoring,' Click Here to read a previous Bindery Success blog article.]
Every print finishing technology is not meant for every shop, so in a future article we'll look at the pros and cons of rotary and platen creasing methods. And next year, as the myth roams Graph Expo like a vagabond with no place to settle, we'll hand out copies of these articles and we'll crease a never-ending stream of digitally printed sheets.

Your thoughts and comments are welcome, as always!