The goal of the designer and printer is to reproduce a job as close to the original as possible, in any quantity. Many jobs need to be folded after printing, and customers won't tolerate a finished, folded piece that's marred by any 'cracking' or splitting of the sheet. Some printed papers will fold just fine (usually text weight stocks and lightweight covers folding with the grain.) It is on jobs where fiber cracking or splitting occurs that creasing becomes important.
2 Strategies to Handle the Fiber Cracking Problem
First, let's look at 3 factors that affect the paper. Second, we'll see how creasing works and why it is an important solution.
The paper structure varies with coating thickness, fiber content, length of fibers, bond between base and coating and how pulp is treated. Heavy coatings and low fiber content means less stability and a greater tendency to crack. No sheet is immune to cracking, but since the coated sheet is more complex than the uncoated it's more prone to fiber cracking. There's simply more that can go wrong. But coated papers tend to reproduce originals better than uncoated sheets; which is why you see more full color jobs printed on coated sheets.
The printing process makes the paper less flexible with the addition of countless combinations of inks, varnishes and coatings. Heat applied to rapidly dry the printed sheet as it exits the press affects the humidity content of the sheet, further reducing flexibility.
The environment, especially with regard to the paper's moisture content, makes a difference in whether paper will crack. A pressroom or bindery at 50% relative humidity will be less likely to have cracking problems than an environment at 25% relative humidity.
The first strategy is to minimize the problem by examining these 3 factors through testing different papers, inks, coatings, varnishes and adjusting the humidity environment. We won't go into detail on these here; there are numerous detailed technical resources available from the Printing Industries of America and from most paper and printing press manufacturers. Even if the 3 factors above are perfect, you'll find that when you get to cover stocks at around 7pt (.007") creasing (or scoring) paper is still needed, which is why creasing is important.
What's the Difference Between 'Creasing' & 'Scoring'
Often used interchangeably, there is indeed a difference in the processes we are referring to, no matter what you decide to call it. You'll also find the same terms have different meanings in the commercial printing versus the packaging industry. For our purposes, Scoring is any method of reducing paper stiffness along a line in order to aid in folding. Press scores (litho score) and old style folding machine scores (e.g. steel scoring blade between steel or rubber collars) are two examples. They simply weaken the sheet to aid in folding.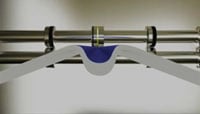 Creasing refers to the internal de-lamination of a sheet by compression along the line where folding needs to occur (shown at right using the Technifold Tri-Creaser.) This effectively creates a "paperboard hinge" according to Kevin Carey of DieInfo.com.
When the sheet is bent (folded) at the crease, all the outward force that normally would split or crack the sheet is directed inwards towards the weak, delaminated line. As the fold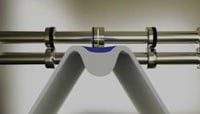 continues, (left) the sheet further de-laminates internally and a rounded bead is formed on the inside of the fold, absorbing all the force, while the outside of the folded piece remains smooth and unbroken. Creasing can be done by either a platen method (both sheet and die board are flat) or rotary method (paper passes between cylinders or wraps around a cylinder.) Both methods use a male die to force the sheet into a female channel, the dimensions of which vary according to the density of paper.
Sometimes simple scoring will eliminate splitting and fiber cracking, but as the sheets get heavier, this is less likely and the stronger compression forces of creasing are needed to prevent cracking. In high-quality commercial printing, creasing is thus the second critical strategy used to combat the fiber cracking problem. Not only does it aid in folding, but when done successfully, it achieves the commercial printers and designer's goal of faithful print reproduction.
Free PDF download will open in a new browser window.