Do you already own a Fast Fit or EZ Fit Tri-Creaser? If you do, you already are aware of the amazing quality and flexibility that our creasing tools provide. Would you believe that we now have an add-on accessory that can further enhance your Tri-Creaser's capabilities?
What is it? Specifically designed to solve the problem of cracking and toner flaking on the inside of the folded piece, we are introducing our newest product the Nylon Female Creasing Rib. For the particularly stubborn job where this problem occurs, you would simply replace the normal 8 Channel Steel Female Component with your new accessory (pictured below). The Nylon Female Ribs come in the same color coded combinations as our Male Creasing Ribs, and can accommodate the full range of paper weights and stocks.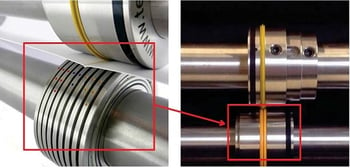 How Does It Work? The design of the Nylon Female Creasing Ribs introduces two creases from an upward direction, on either side of the single main crease being impressed on the sheet from above by the usual Male Component, significantly reducing or totally eliminating any issues with inside cracking and toner flaking.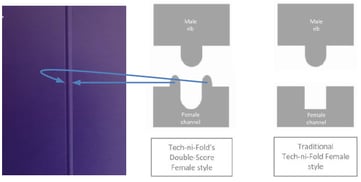 What Folding Machines Will It Fit?
Fast Fit and EZ Fit Models a
re available now for most popular folding machines including: 25mm Stahl and GUK / 30mm MBO and Horizon / 35mm Stahl and MBO.
Watch the Animation Video Here:
Click the Box in the Bottom Right Corner for Full Screen Mode ↑
Customer Testimonial: "We had a difficult job with bleeds on both sides and the grain going the wrong way, the outside looked great but the inside of the fold was cracking. We just purchased the new Tri-Creaser Accessory Package with the new Nylon Female Creasing Ribs and after a little trial and error, we were able to get both sides of the fold looking great using the new tool. We had to run the job multiple times through the folder because we only had 1 of these new tools, so the next day I ordered 2 more. They really work great. We delivered the job on time and it saved us from needing a letterpress score and missing a deadline. Great idea on the new product, it saved us!"

- James Navulis, Haapanen Brothers Graphics

Please call the Sales Office at 973-383-7920 or Email: Gina@TechnifoldUSA.com for more information and to place your orders.