"Against the Grain": Uplifting Memoir Empowers Readers to Take Action, Disrupt Convention and Thrive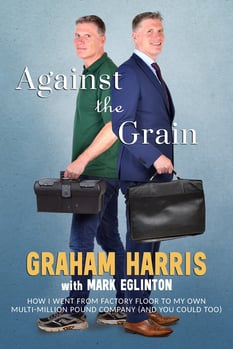 'Against The Grain - How I went from the factory floor to my own multi-million pound company (and you can too)' does exactly as it says on the cover; as readers walk alongside author Graham Harris for a transformation that is nothing short of remarkable. From the challenging logistical aspects of launching a new product, to the secret mindset shifts few talk about, Harris' volume is a holistic guide to making positive, lifelong change.
At the age of nineteen, after a night out drinking, Graham Harris found himself in the most unexpected situation of his life; lying on a hospital bed after being hit head-on by a car. It was this literal awakening that shook Harris, and made him realize that he wanted more out of life than his job as a printing floor worker.
Today, Harris continues to rack up success as an entrepreneur, inventor and thought leader whose creations have saved the printing industry over eight billion pounds. In his new memoir, Harris tells his entire story with one aim – so any reader can follow in his footsteps.
Synopsis of 'Against The Grain - How I went from factory floor to my own multi-million pound company (and you can too)':
In his book entitled "Against The Grain", Graham Harris, describes how one day, dissatisfied with his lot as a factory print worker, he decided to change his life.
Working from his garage in his free time, he invented and developed the Tri-Creaser, a device that has revolutionized the print industry. With honesty and self-deprecating humor, Harris recounts the many ups and downs of his journey to owning a multi-million pound, multi-national company where his devices are now estimated to have saved his customers over 8 billion pounds over ten years.
Not only does Against The Grain chart Harris' inspiring story, but it also offers hope for aspiring innovators by spelling out, in simple terms, both the attitudes and the practical steps required to conceive an invention, manufacture it and then take it to market.
"Here's the hard truth," explains the author:
"You owe it to yourself not to live the life that your friends, boss or parents want you to. You deserve to (and I'd suggest in secret, so nobody steals it), work solidly on that unique idea you have, pursue it with gusto and don't let anyone stop you from seeing it develop into what you envisioned. For me it all started with a small loan from my sister, and just a few weeks to get to my simple, minimal and viable product. You need to get up, shake off the laziness and the lack of confidence – and I'm about to show you just how successful you can be."
Continuing, "This book really is for anyone but of course, with my background in product development, it will be of particular interest to those operating in that space. For example, I go extremely deep into the patenting process, teach readers how to balance their inner creative inventor with the need for business smarts, and even dive into the nitty gritty of marketing a new product. It's all information that will apply to anyone, no matter what dream they decide to chase."
About the Author: Graham Harris is an inventor of multiple print industry solutions. His inventions have taken him from factory floor to setting up his own multi-million pound companies, Tech-ni-Fold Ltd and CreaseStream Ltd. Married to Sue he has two children, Jack and Sophie, and lives in the Midlands.
Click ------> Available Now on Amazon.com!