There is something about bindery equipment that is endlessly fascinating to anyone with an "erector set" brain. The mix of mechanical and electronic cleverness always leaves me asking, "OK, what else can we do with this piece of print finishing equipment?"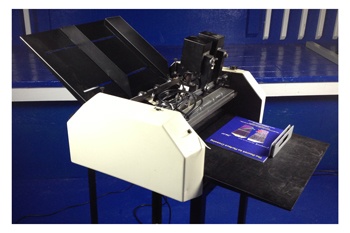 Of course that's our mission here at Technifold USA, to figure out ways to help you to produce more with what you have and do it better, faster, and cheaper. With that in mind we purchased some used scoring machines and folding machines a few years ago to demonstrate simple, effective ways to do just that.
One of the machines on our floor is a used Graphic Whizard scoring and numbering machine that we picked up on the cheap on eBay. We had just introduced a new Fast Fit Tri-Creaser for these creasing machines and my plan was to make an introductory video along with an instruction video.
Now that I've publicly confessed to procrastination, you'll be happy to hear there is indeed a video overview (below). Considering the age of the machine, performance results were even better than I had hoped for, especially in light of the fact that we bought the machine as-is, sight unseen. It only required a few parts to get it in good running condition.
We added the Fast Fit Tri-Creaser (photo lower right) and decided to test some 14 pt uncoated cover stock. It's a 100# Cougar cover, digitally printed, heavy coverage, running against the grain. As you'll see, the results are
great. Registration is perfect and there isn't any fiber cracking. Although cover stock this heavy is probably a maximum effort for this model of scoring machine, it performed just fine as shown in the video.
If you own a Graphic Whizard that feeds reliably and gives you good registration, a Technifold creasing tool makes your machine instantly more productive. If you have issues with registration or other mechanical glitches, it's time to tune it up anyway if you want it to be more productive.
One thing about bindery work is that you always have to be prepared to do the unexpected. No matter how much planning goes into your equipment purchases it's been my experience that there is always a need for another piece or another accessory. It's the curse and the blessing of the industry. Customers are endlessly creative and it keeps us on our production toes.
The good news is that these days there is an ample inventory of used, low-cost finishing equipment available. Even the most budget-minded printer can augment bindery capacity for little money. If you select carefully, or have a technician do it for you, you can find good auxiliary machines to handle those unexpected projects that occasionally crop up.
However, don't be penny-wise and pound foolish. If for example, you are buying equipment for the purpose of creasing, do NOT buy it unless it has (or you plan to add) a Technifold creasing tool. I say this with the benefit of years of experience with customers who did exactly that, thinking they were saving money. In fact, the exact opposite happens.
They purchase bindery equipment without our tools and find that they are still sending jobs out or scoring in a separate, costly operation. After the loss of time and money causes enough pain, they come to us.
It doesn't matter that Technifold accessories sometimes cost more than a used machine. In truth, that kind of narrow focus misses the point. The point is, does the total cost of machine plus accessories get the job done and make you money? The right setup, right from the start, will give you a high return on investment, faster turnaround times, bigger output, and happier customers. A cheaper machine that you rely on which doesn't get the job done will always cost you more in the long run.
Whether you are dusting off some old print finishing equipment in your shop, or are planning to find something on the used market, make sure you go in with the intent of getting maximum bang for your investment buck. Add the right creasing, cutting, or perforating tools to handle the jobs at hand.
Be sure to take a minute to check out the video below. Then if you have questions about adding Technifold tools to your Graphic Whizard or other bindery equipment, use the Contact Us form or call us at 973-383-7920.