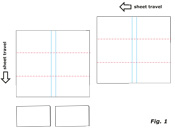 We are regularly asked if it's possible to crease and fold cover stocks two-up on a buckle folding machine. The short answer is, "Yes, it's possible and in fact it's done all the time." The more detailed answer is, "Yes, but there are a few things to consider." Since we are all in the business of getting more productivity from the bindery equipment we have to work with, it is well worth taking a few minutes to review these possible 'gotchas'.
Before you immediately dismiss the idea (and to their own detriment many do), understand that the end result is that with two-up production on cover stocks, you might add considerable capacity and productivity for certain kinds of folding jobs. If you know what to look for as well as what to avoid, you can capture an opportunity that not everyone (competitors especially) will see.
Here are five items to consider with cover stocks that you might not normally think about when planning conventional folding jobs.
Rotary Trimming
If you are creasing and folding a two-up job, you must have the right knives to trim cover stocks inline. Your regular OEM split slitter knives on folders and scoring machines are not designed for this kind of work. Most manufacturers have alternative heavy duty knives available.
If your heavy duty knives leave a ragged fuzzy edge, we have the Multi Tool available to take care of that problem. It's designed to deliver guillotine quality cutting results inline on your folder, even on cover stocks.
Layout
Be sure to pay attention to size limits especially on the right angle. It's easy to go past the size limits when you multiply anything by two.
Another factor is the ratio of width to length. If the side that is registering along the side guide is much shorter than the length of the sheet, you may run into register problems. (This is commonly referred to as an 'oblong' sheet.)
This article shows two popular layouts for two-up work. If you do a lot of two-up work, consider adding a split guide to the right angle section for maximum productivity.
Reducing Curl
Cover stocks will curl as they pass through the fold rollers. Too much curl and you'll have problems moving the sheet along the right angle cross carrier and/or delivering the final product. But there are a few things you can do to reduce the curl. There are some very effective tips in this related article here.
Feeding Paper
Heavier stocks are usually easier to feed on a pile feeder than on a continuous feeder. But you can get some pretty heavy stocks around the drum on a continuous feeder. Depending on the size, grain direction, and orientation of the paper, you may have to try fanning the sheets more or less than you normally do. Usually fanning them out further so the stream is lower will work. But don't be afraid to try the opposite!
Another technique is to use extra rollers on the feeder drum to stabilize the sheet. Usually these are used for small sheets but I've found they can also help with cover stocks.
Knowing and Accepting Limitations
You can crease a heavier sheet than you can fold. For instance, on a moderately sized folder such as our MBO B123 we can crease a sheet up to about 16-18 pt. The maximum weight cover stock for which we can do a single fold is probably about 14-15 pt. The max we can do on a double fold (3 panels) is probably around 9-10 pt. Machines with smaller fold rollers such as the MBO B20, Stahl T52, or a Baum 20 or Baum 714 will be more limited with regard to folding covers.
Machines and papers vary. This is why testing is important.
Summary
Testing your two-up cover stock capability is a great down-time project for the bindery. Compile a spec sheet of maximum and minimum sheet sizes, paper densities, and folding limitations for running cover stocks on your particular machine. Then be sure you have all the tools you need on hand to successfully take advantage of the next opportunity. This also keeps your estimator or production manager from having to ask you questions every time such a job possibility appears.
If you find yourself running a high volume of folded cover stocks, it's probably time to consider alternatives to conventional buckle folding.
For instance Baumfolder has the Baum CF20 Folder. Although it's still a buckle folder, its large diameter fold rollers will fold some pretty heavy cover stocks without curling them. Another option is the traditional sheet-fed plow-fold units, long used by packaging companies and greeting card specialists. These units will fold any weight of cover stock or board at incredibly high speeds. Companies such as Kirk Rudy, Linemods, B&R Moll and others have units available for a wide-range of off-line and inline folding.
Look for some videos on this subject in the very near future. As always we welcome your stories, comments and suggestions below!