Since many of you couldn't make it to Drupa this year, we thought you'd let us be your unofficial eyes and ears. We were fortunate to be able to spend three days working at Drupa with our Tech-ni-fold Ltd and CreaseStream colleagues from around the world. The stand was busy but we did find time to sneak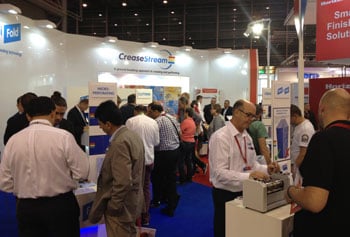 a few peeks at some other interesting exhibitors. This week's items are more on the fun side of the printing industry although the last one is practical too.
The Sounds of Printing
"The Sounds of Printing" by the Leipzig Museum of the Printing Arts was a fascinating glimpse into printing's past. Some of the sounds emanating from this corner of the hall included a 1894 Koenig & Bauer letterpress that was printing posters. Another mechanical marvel in operation was a Linotype from 1965. You can see it clanking away in the video clip below.
For all you desktop publishing babies, the linotype is a machine that automated the painstakingly manual operation of setting type letter by letter. The linotype dramatically increased the speed of typesetting by producing a full line of type all at once. It's a remarkably sophisticated piece of machinery. The Wikipedia page has a detailed page to tell you everything you need to know about its design and operation.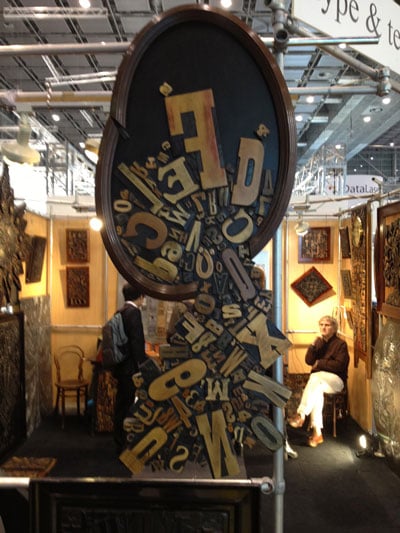 The Leipzig Museum is a working facility that offers hands-on experiences with 550 years of printing history. It includes their own lead type foundry, a fully equipped handcraft book bindery, a wood engraver's workshop, and a range of letterpress, intaglio, and planographic printing presses. You can learn more about the museum on their website.
Type & Tech
Creativity in the graphic arts industry is never in short supply and sometimes it can stop you in your tracks. That's what happened to me as I was strolling briskly past the Type & Tech stand.
Thirty years ago German artist Henrich Weusthoff began collecting antique wood and metal typefaces as well as dingbats, woodcuts, and engravings used in printing. Parts of his collection are said to be over two hundred years old and were collected from shops in England, Ireland, and Scotland.
Inspired by the shapes and textures of his collection he began creating fascinating pieces of art from them. There is no simple way to describe them; you simply have to view them. (More images below.) They come in all shapes and sizes and are made from rich woods and metals. Each creation is the only one of its kind.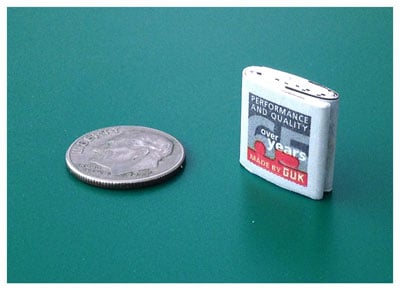 Weusthoff also does custom pieces on request. So if you're looking for that perfect printing-related artwork to hang on your living room wall, get in touch with him before he runs out of inventory or retires.
Super-Mini Fold
What's small enough to be a breath mint and is made on a folding machine? It's the "super-mini" from a GUK pharmaceutical folding machine. Measuring only 9/16" square (15mm x 15mm) it's about the size of a dime. (photos at right)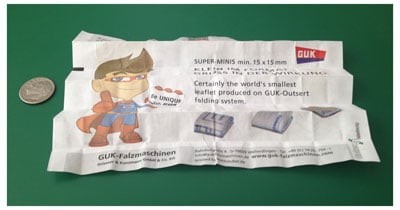 And yes, I was told that some attendees did indeed mistake them for mints. As you passed by the GUK stand there were candy bowls filled with the tiny outserts. Unless you were paying close attention, it's easy to see how you'd casually saunter by and pop one in your mouth. Once you coughed it up and unfolded the mini you might find the tiny warning, "Unfit for consumption" printed on the inside.
As far as folding technology goes, it's pretty impressive. Measuring 5.8" x 4.1" (148 x 105mm) it has six accordion folds combined with four right-angle folds. GUK claims it's the world's smallest folded leaflet.
We have more print finishing things to share with you in the next week or so. Stay tuned. And if you have a Drupa story, please feel free to share it below!