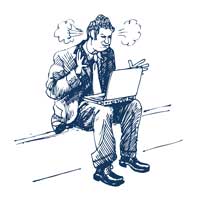 I periodically get letters from bindery equipment operators and others in the printing industry who feel stuck in their jobs, or are underemployed, unemployed or are at a loss as to how to advance their career. They want advice. Considering the very personal nature of their situations I realize that reaching out like this is a big, vulnerable step. I know because I've been in the same situation.
What can they do? There is no simple answer. No right or wrong. That's the beauty of being human. The solution will be uniquely yours, to suit who you are. It's also the troubling part. While we each have our own unique answer awaiting us, it's never revealed to us all at once. It comes by taking one step. Then another. Maybe nothing happens for months. Then you take another step.
I think about these folks often. When you read the news about our turbulent industry or about the economy in general, it's easy to get lost in statistics. But there is a human face, a family, joy and sorrow behind every one of those numbers.
In my business experience I've learned that for every one person talking about a problem, there are probably several more that are thinking or feeling the same thing. They're simply not as forthcoming in reaching out as some of their colleagues. So for those of you in the 'quiet' camp, and for what it's worth, I'll share some of my thoughts on the topic.
Accept the fact that the printing industry is changing. Denying it will only hurt you in the long run. As Herbert Agar said, "The truth that makes men free is for the most part the truth which men prefer not to hear."
Be pro-active and take action. Tell yourself, "Today I am going to do one small thing to improve my situation." Then do it. It could be something as simple as writing down a list of skills you would like to learn. Then tomorrow take another small action. Don't wait around until you have no choice but to react. Start today.
Be open-minded. Where there are problems there are always opportunities that can come in many forms. If we limit ourselves to what we think we want, we can miss a chance at something good. Years ago I was working part time and in search of a full time job. I began selling Technifold products to supplement my income. I was desperately looking for a job yet I found a business, but only because I didn't close my mind to that possibility. I now see that frustrating part of my life as the best thing that could have happened.
Add skills by taking classes or working a part time job, or both. If you don't know what skills to work on, look around your company. Is there something lacking that you could provide if you had the skill? Think about re-inventing yourself completely. Local community colleges are an incredible resource for students of all ages.
Place a free Situation Wanted ad in our printed Bindery Success newsletter. You can post the ad anonymously if you prefer and we'll forward replies to you. Use the Contact Us form to send us the text of your ad. (About 50 words or less.) Employers, you too are welcome to post your Help Wanted ads for free.
Consider re-locating. The best opportunities may not be in your back yard.
Don't turn down a reasonable job because you are tempted to sit at home and draw a similar level of benefits. Opportunities are out in the workplace and you might have to suffer a temporary pay cut to take advantage of it. You will

never

find an opportunity by staying home and drawing short-term benefits.
If you are a person with a religious faith, don't forget to turn to it. Being unemployed or underemployed is too stressful to go it alone. As Mother Teresa said, "I know God will not give me anything I can't handle. I just wish that He didn't trust me so much."
So keep going and don't give up. No matter what our difficulties, there is always something to be grateful for each day. We don't want to waste the good by worrying about the bad. The problems will pass.
As always, we welcome your comments and experiences below.