In a previous Bindery Success blog article we discussed problems that can arise when trying to feed thin, porous signatures (usually 4 pages) on saddle stitcher inserters or perfect binder gatherers. Details are here if you want to give it a quick review. Today we have one more quick fix on the subject sent to us by Todd Summers of Nittany Valley Offset.
The simple bindery tips are always the best, and this is one of them. To combat double signatures on his Muller, Summers had used a rubber sucker wire tip mentioned in that previous article. It helped on many jobs but there were still those occasional jobs when the Muller feeder would pull doubles. And as you know, it's a giant production headache when that happens frequently.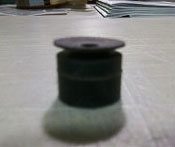 Their shop happens to run both Muller and Heidelberg saddle stitchers. After struggling with the double signature problem on his Muller, he had one of those "what the heck" moments and decided to try the rubber suckers from the Heidelberg pockets on the Muller. Says Summers, "I was shocked at the difference. I can almost say it solved the problem completely."
With one quick switch to a slightly different sucker, (shown in the photo) his stressful saddle stitching job turned trouble-free. If you're interested, the Heidelberg part number on the sucker is ZD.2144-241-01-00.
Would this work in reverse, going from Muller to Heidelberg to help with a problem? Possibly. I would certainly try it.
Back in my stitcher operator days I tried anything when I ran into a tough job. Sometimes advice from an experienced mechanic or operator would get me going. Other times I was on my own. One of the trickiest jobs was running a 4 page signature on 50# offset—with no lip—on an old McCain built in the early 60's. I vaguely recall removing the suckers, decreasing the vacuum and modifying the feeder pocket to make it do what I wanted it to do. None of this was taught. It took me a while but the point is I had to figure it out.
Of course today there a variety of rubber suckers available to accommodate the wide range of papers you'd expect to run on an inserter or a gatherer. If you are struggling with feeding issues, it pays to make time to experiment with what's available from the OEM. And then, add in a few suckers from other OEM's just for fun.
It's easy and fast to switch suckers on the pocket feeders and you'll get instant results—it will either work or it won't. So testing isn't a big deal. Beware that there are hundreds of rubber suckers on the market. You'll need to select ones that fit the sucker tube on your feeder and that are approximately the right height.
Rubber suckers are cheap so it can't hurt to have a comprehensive inventory on hand. Bindery equipment operators always have and always will push their equipment to the edge of its performance envelope, usually out of necessity! A few dollars worth of suckers just might be a good insurance policy against a problem job. Or it might totally eliminate a recurring production problem such as double signatures.
But all good bindery operators know that just as you settle in for a few moments of peace, the next job comes along with something you've never seen before and is even harder to feed or run. As author Robert Pirsig said, "Technology presumes there's just one right way to do things and there never is." No one knows this better than a bindery equipment operator!
As always, please share your experiences, comments and suggestions below!