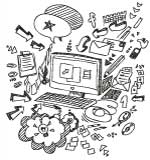 I'm not sure what my work area says about me. If I were the boss of me I might have to say something to myself. Psychologists love to study all that stuff and tell us it means something about our personalities. I'm sure it does. But what really matters is how our work area aids (or inhibits) our productivity.
What inspired this train of thought was a bindery tip and photos sent in by regular contributor Reno Cyr Sr of JS McCarthy. His clean, well organized work area keeps needed items close at hand to maximize productivity while running folders and other bindery equipment. (photo below right) In short, his work area helps him get more done with less effort.
In my own defense I must say that when I worked in the bindery, my work area was very neat and organized. Not because I'm a neat freak, but simply because it made my work life easier. I got more done with less fuss.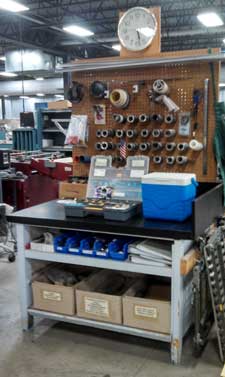 On the opposite end of the behavioral spectrum, I've seen superb production come from sloppy work areas. One pressroom foreman I worked with rarely bothered to tie his boot shoelaces and if his work area was clean and organized, it meant there wasn't any work in the shop. If the presses were booked solid he'd let paper and debris pile up until he couldn't take it. Then the press operator who happened to be on his hit list for the day had to do the dirty work.
Yet he was the picture of productivity. I never saw anyone else who could run presses like he could. Hundreds of thousands of sheets of 20 pt board would fly off his press at maximum speeds with high quality.
All this talk of work areas got us thinking that there must be some great work areas out there in the post-press universe. And perhaps some unusual ones, too! Since our focus is on bindery productivity, we decided to host the 2013 Technifold's Best Bindery Department Work Area Ever Contest to find out how people set themselves up to get more done.
What's your work area like?
Can you inspire us with your awesomeness and organizational skills?
Or is your work area the picture of train-wreck dysfunction that just so happens to kick butt while leaving your co-workers in the dust?
Is there a story behind your work area?
Whatever your style, let us know how it makes you more productive. The Grand Prize winner gets an HP Pavilion 14" Chromebook. Second place gets a $250 Amazon gift card and third place a $100 Amazon gift card.
How to Enter the Technifold USA Bindery Work Area Contest
Take photos or video of your work area
Tell what kind of work you do, (job function) including the machines you operate.
Tell us how your work area makes you more productive. A good way to do this is to use a before/after story with specifics. For example, "Before I organized my area, I folded an average of 25,000 16page signatures a day. After I organized, I averaged 30,000." That's simplistic, but you get the idea. Or do a comparison. Tell how your production compares to others running similar work who are not so organized. (Don't do this if you'll get in hot water with your co-workers!)
Submit written details in Word or pdf format. If you prefer, you can omit the writing and do it all in a video as long as you include all your details in it. Go to https://www.wetransfer.com/ to send your photos and details. Forward to info@technifoldusa.com. You can send up to 2GB for free and you don't have to register.
All entries will be judged by the staff of Technifold USA and graded on the following:
How well your work area increases bindery productivity. Be as specific as you can.
How well your work area simplifies bindery equipment operation and/or makes your work life easier
Organizational skills and/or creativity in setting up your work area
Originality and humor will also be considered
Deadline for receipt of entries is midnight Friday Aug. 2, 2013. Winners will be announced sometime in August via our email newsletter, Bindery Success Blog and Facebook and Twitter pages. The winners will also be notified individually prior to public notification.
There is no cost to enter the contest, and it is open to anyone over 18 who is employed at least part-time in any type of post-press operation in the United States, its territories or Canada. Technifold USA employees, vendors or equipment dealers are not eligible for participation. (Sorry press room guys…your departments always get the big bucks anyway. Maybe we'll do a separate contest for you!)
All entries become the property of Technifold USA. Winners photos will be featured in various media at our discretion. All entrants agree to release Technifold USA, its officers and employees from all liability. Judges decisions are final. Entry in the contest means that you agree with the contest rules. Please use the Contact Us form if you have any questions.
Show us what you got!