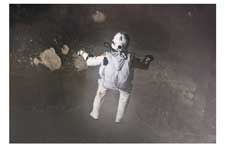 He's called Fearless Felix by friends and colleagues. This past week Felix Baumgartner set four world records including the highest skydive at 128,097 feet (24 miles), highest manned balloon flight, the first man to go supersonic in freefall, and longest vertical distance in freefall.
He's a helicopter pilot and well-known BASE jumper, which means he skydives from buildings, antenna, spans (bridges) and earth formations. How could you not call him fearless?
Despite his nickname, it was fear that two years ago caused Baumgartner to nearly quit the risky and difficult jump program. According to the Red Bull Stratos team, the biggest risk to the mission was Baumgartner's claustrophobia. The jump required him to be enclosed in a spacesuit for up to five hours. It was fear of this that nearly scrapped his lifelong dream of breaking these records.
Instead of giving in to his fear, he sought the assistance of psychologists to help him overcome it in order to make the mission a success. There were dozens of other very real things that could have killed him that he probably should have been afraid of. After all, it was such obstacles and risks that kept the previous free fall record intact for 52 years. This was not an easy thing to do!
Yet the hardest thing for Baumgartner was to face his fear of something that is essentially harmless. Are there fears in your life that are holding you back personally or professionally? I see it all the time.
Fear of changing jobs keeps people stuck in jobs they hate and prevents growth and learning.
Fear of going back to school, or of continuing education in their chosen trade, erodes an employee's value to a company. The same applies to print shop and bindery owners. Once we decide to stop learning, the rest of the world leaves us behind.
Fear of learning a new piece of equipment limits an employee's usefulness on the job.
My favorite acronym for fear is "False Evidence Appearing Real." Granted, there is a place in life for fear when it serves to protect us. It's not a bad thing, for instance, to fear swimming across a raging river. You probably won't make it. There is a distinct difference between calculated risk assessment and succumbing to fear. More often than not, we will find our fears to be groundless.
I recall years ago being asked to speak to a group of 15 to 16 year old teenagers on the topic of faith. In my mind this was a recipe for ultimate disaster. I tense up at the very thought of public speaking, never mind the thought of addressing a group of rebellious teenagers who were required to be at this class. Out of the 40 or so who were to attend, the pastor not-so-helpfully said that maybe one actually wanted to be there.
My initial reaction was to formulate 100 excuses for not doing it. I decided to ignore my fear and accepted the task. In the days preceding the event I visualized riotous, verbally abusive teens hurling stuff my way as I spoke. The day of the event, I couldn't eat much and my throat was dry as a desert.
To my astonishment, the group didn't utter a word throughout. They actually looked and listened attentively (for the most part.) Afterwards several teens actually thanked me for the talk as did some of the other adult teachers present, saying it was one of the best talks they had ever heard.
Of course my fears were baseless. And the experience was rewarding. Much to my distress I was asked to speak again at an upcoming graduation in the school. But by the second time around the public speaking issue, the fears seemed to vanish much faster.
Over time I've come to see such fears as sign posts that might lead me to personal or professional growth. Instead of running from them, I take some time to find out what they might be trying to tell me.
What fears are keeping you from setting your own personal or professional record? Are you going supersonic or have you hung up your space suit?
Oh, by the way, Baumgartner says he's done with the daredevil game. He plans, after a break, to fly helicopters commercially, perhaps fighting fires. Way to take it easy, Felix!