They laugh when we start cranking the handle on the new CreaseStream Mini scoring machine. It happens every time. "Hey, does that thing come with a monkey?!" is a favorite quip, usually heard in the first two minutes and then like clockwork throughout the show. At one recent in-plant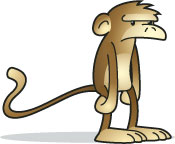 printing conference an exhibitor could be seen jumping around like an organ grinder's chimpanzee in mock imitation of us working the Mini creaser, his buddies laughing like hyenas.
Ahhh…but there is great comfort in the laughter. Experience tells me it usually means we're on to something good. So why, in this high-tech, automated, programmed, in-line world of modern printing, would customers insist on an old-school piece of equipment like the Mini scoring machine to help make their bindery operations more efficient?
It's no secret that segregating short-run bindery work from the flow of longer run work is a key to productivity. As average run lengths decrease, the typical commercial print shop might be faced with a wide range of run lengths to produce on equipment originally designed for longer runs. Face it; everyone can't afford to re-equip their shop at a pace to match the change in technology.
It just doesn't pay, for instance, to set up a right-angle folding machine for a short-run scoring and folding job of 50 brochures. When you consider the make-ready times and waste involved with longer run equipment, adding short-run digital printing work to the regular workflow is simply counter-productive.
Once you decide to segregate your jobs, you might find you already have equipment and personnel resources available to handle the new work flow. The worst case is you need to get one or two low-cost pieces of scoring or folding equipment to pick up the slack. Here are some popular ways to handle those short-run scoring, folding and perforating jobs that won't tie up your regular production equipment or cost much to implement.
Use a scoring machine and then hand fold the brochures. It's as old school as you can get, but with a little practice hand-folding can be extremely fast. (Check out the hand folding video to see a brief demo.) If you already have a scoring machine (or creasing machine) in the shop, dedicate it to scoring the short-run work. Then finish those jobs with hand folding.
Of course this type of scenario works best with cover stocks but you can also hand-fold text weight stocks by using a folding bone. It's a little slower but it gets the job done if you don't want to tie up the big machine. (Look for a video soon!)
Use a scoring machine then fold the brochures with a simple tabletop folder. There are dozens of el-cheapo folding machines out there which could handle your workload. Better yet, put a Baum 714 to work for you. It's simple, fast, sturdy, readily available and will last forever with proper care.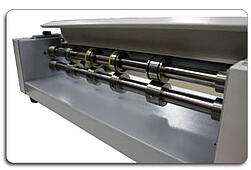 If you don't have any type of scoring or creasing machine, and you're doing up to 1,000 pieces or so per shift, then consider the Tri-Creaser equipped, Mini scoring machine. It's intentionally low-tech design is very fast to set up yet heavy duty enough to handle the toughest cover stocks. It produces at 3 to 5 times the speed of a lever-type hand creasing machine, delivering as many scores and perforations as needed in one pass of the sheet. The multiple creasing ribs and female channels that make up the Tri-Creaser allow you to select from several creasing options, unlike the lever-type units which give you one fixed-width option.
For larger volumes of a few thousand pieces or more per day, consider the Technifold Speedcreaser or pick up a scoring machine on the used market. There are plenty of low-cost second hand machines on the market from Rollem, Rosback, Count, Pierce and more. Simply add a Tri-Creaser to any of them to boost your performance with short-run digital printing.
One of the benefits to segregating the work and including a bit of hand work is that the operator is engaged and actually looking at the job during that phase of production. (Well, we hope so, anyway.) If you've ever walked away from a set-it-and-forget-it machine only to return and find a short-run job ruined, then you know the benefit of having eyes on the job.
Having said all this, make no mistake, I'm all for optimizing work-flows and getting better yield from your bindery equipment through automation and fewer touches. It would be nice if everyone could look at their work load and buy a machine that would do it all from beginning to end. The reality is usually a lot messier, especially for us in the bindery. I suspect that even if you did get the perfect machine, tomorrow there would be a job that wouldn't quite fit the parameters and you'd be back there hand folding. I promise I wouldn't laugh.
But if you want to laugh with us, come find us at Graph Expo. Look for one of us in an organ grinder's hat with a tin cup right next to the Mini Scoring Machine. By the way, we sold out our inventory of Mini creasing machines twice since that conference. I don't think Chimpanzee man has that problem.