When running thin 4-page signatures on a saddle stitcher inserter pocket or in a gatherer, it can be difficult to control the vacuum so as not to pull double signatures, typically on light, uncoated book stocks.
Too little vacuum and you don't pull a signature at all; increase it just a touch and suddenly you're pulling doubles or triples again. On gatherers you'll end up with numerous bad book blocks. On stitchers the doubled signatures will fall to the floor under the chain if you're lucky. Although that's mostly a housekeeping problem which wastes some signatures, bigger problems arise two other ways:
Static or friction can keep the double stuck together. One will open correctly on the chain and the double will hang on, only to slide off later, causing a jam at subsequent pockets or at the stitcher heads.
Fluctuating suction causes the double to curl under and jam in the pocket itself before it makes it to the chain.
Remember, the key to maximum production is to maintain maximum continuous running speed. Every time your bindery equipment stops your average yield decreases significantly. Our goal then, is to eliminate anything that causes an unplanned stop. Also we want to minimize the task of separating and re-using rejected books.
Some Quick-Fix Solutions
First, check with the manufacturer of your equipment for specialty suckers. Rubber suckers are made with a variety of materials, sizes, shapes and specialty designs geared to specific materials. There are plenty of OEM and aftermarket suppliers. But if you're stuck and need an instant solution, then try the following. These tips were submitted by several readers and appeared in our Bindery Success print newsletter a while back.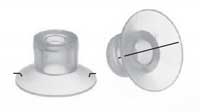 One popular technique is to take a small piece of stitcher wire and run it through and across the suction cup as shown in the figure at right. It prevents the signature from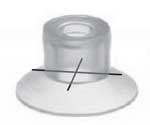 being pulled too deep into the sucker, effectively reducing the vacuum and giving you more control over the signature.
David Iungerich, an RR Donnelley bindery supervisor, has a variation on this theme. Says David, "I found it easier to run the wire thru the neck of the sucker, just below the cup, and I also use two pieces in a cross-pattern." (drawing at left)
Another trick, often used on sheet fed presses, is to cut off one or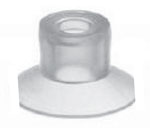 two sides of the sucker cup to reduce the vacuum. (drawing lower right) Experiment by removing different amounts of material and then test various vacuum settings.
You can also try removing the sucker cup altogether. Although we have seen that work in the sheet fed press environment, We've never been able to make it work reliably with signatures. That's not to say that it won't work for you on your bindery equipment. Try it; it will only take a few seconds to find out.
We're sure there are other methods out there, inspired by a variety of bindery operations, so feel free to share your experiences, comments and suggestions below.
For those of you with saddle stitching and perfect binding equipment, we have special offers on several Technifold devices as a way of saying 'thanks for reading!' Simply email us here and include the make and model of your stitcher or perfect binder. We'll get back to you by the next business day with your options and special pricing.