Does your printing or bindery business fit one of these scenarios?
Your new folder operator has been to folder school and now has a couple years of experience. The folder mechanic or colleagues at work have shown him (or her) a few tricks, yet he's not even close to the production output promised by the folding machine salesman.
Your operator has 20 years of experience but you have the nagging suspicion that you're not getting everything you should be getting from your folding machine, even though he is a hard worker. He's got you thinking, "Sure, 20 years, but it's the same year, repeated 20 times!"
You're the folder operator and you struggle with 'impossible' deadlines that don't even ruffle your fellow operators. You've got the basics down but can't quite get to the next level.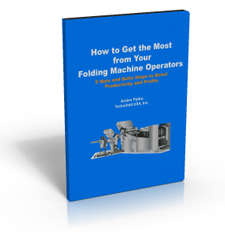 Whatever your circumstances, you know its time to step it up to the next level of productivity on this important piece of bindery equipment. These days you truly can't afford to get less than maximum productivity from every single piece of equipment in your shop.

In working with thousands of bindery and printing businesses around the globe, we see many excellent bindery practices. We also witness far too many sloppy, unproductive habits that rob everyone involved of any chance at real success.

One critical trait that stands out in the good operators, as fast and productive as they might be, is they never stop trying to improve. It's in this spirit of continuous education and improvement that we put an ebook together called How to Get the Most from Your Folding Machine Operators - 6 Nuts and Bolts Steps to Boost Productivity and Profits
The point of our new book is this: you can indeed get more from your folding machine at any level of experience whether you are the owner, supervisor or operator.

The topics we cover will challenge how you think about problems yet also offer simple how-to tips you can start using today. Some of the chapters include:


The 80-20 Guide to Trouble-Shooting
Less is More: Why Higher Bindery Equipment Speed Does NOT Always Equal More Productivity
Garbage-In-Garbage-Out: Banish Feeding Issues on the Folding Machine
The Fold Rollers: Is Your Thinking Outdated?
Slitter Shafts: What Are They and Why Should I Care?
Putting it All Together: Solid Tips from the When-Were-You Going-to-Tell-Me-That Department
Like most things we do, the book is a bit unconventional and you might even disagree with us. Nor is it intended as a comprehensive guide to training but rather as a resource to be added to those you already use. Ultimately if it leads you to examine your own practices and inspires you to search out your own new level of productivity, then the book has accomplished its mission.
Before you ask, yes, we are putting together a print version of the eBook. We'll let everyone know as soon as it's ready, and in the meantime you can simply
click here
to download the free 24 page pdf ebook, compliments of Technifold USA. No email or optin required.
Be sure to let us know what you think as we always welcome your comments, feedback and suggestions below!