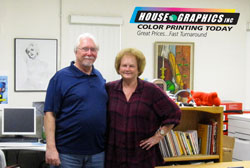 John and Carol Rickey have been riding print industry waves since they founded House Graphics in 1979. Their story inspired us to select them as the prize winners in our recent 60,000th Tri-Creaser Contest.
The Rickey's San Diego shop began as a typesetting and prep outfit catering to the local print industry, with an investment in a state-of-the-art typesetting system and employment of a team of professionals. Together they created and produced the art boards and film that comprised a typical print job in those days.
Says John Rickey, "By the time our equipment was paid off, it was obsolete. Personal computers had come along…" So they decided to shift the company's focus to imaging the film used by printers for plate making. This was profitable for quite a few years.
Then along came direct-to-plate and a decline in the use of film. The dawn of digital printing was also at hand so it was time for another shift in business focus, with House Graphics emerging as a digital printer serving the trade. This too was a good business for some years.
With the economic strain of the past few years, hundreds of printers in their San Diego market disappeared. This loss of customers finds House Graphics facing yet another period of evolution. According to Rickey, "If we are to stay in business, we must again reinvent ourselves and become a retail printer, offering our community the professional service and knowledge of the printing industry that we have been offering the trade for 34 years…your [Technifold] equipment is the missing link in our pursuit of the change to retail."
Small business doesn't often get the glamorous spotlight of the popular media, yet it's the Rickeys of the world that drive the economy. Small businesses create more than half of the US gross domestic product and create up to 80% of the net new jobs, according to the Small Business Association. As impressive as those numbers are, those of us in small business know it's rarely an easy or simple task!
Several things compelled us to select the Rickey's as the winner in our recent 60,000th Tri-Creaser Contest.
They are passionate about producing every single job with the craftsmanship of a seasoned, professional printer. Just because technology is cheaper and widely available doesn't mean everyone knows how to use it.
They adapt in the face of inevitable, often overwhelming change and are proven survivors.
They are family-owned and operated.
They don't give up.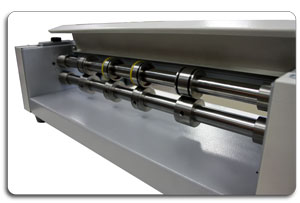 It's a story of perseverance in which our unique bindery products can truly make an important difference. The prize in our contest was 2 Fast Fit Tri-Creasers or an equivalent Technifold solution.
The Rickey's decided that the new Desktop Creasing and Perforating machine (the CreaseStream Mini) is the perfect fit for their production of short-run, same-day turnaround digital products. Their new Mini, outfitted with 2 Tri-Creasers and a Micro Perforator arrived this week and they should be producing their first jobs as I write this.
The printing and bindery industry will continue to change; that's a given. Yet I suspect that no matter what happens with printing technology, there will always be small businesses tucked away in your neighborhood and mine, quietly and relentlessly producing, creating and powering the economies of the world.
Congratulations to the Rickey family and thank you for sharing your story with us. If the happy coincidence of our contest with their business need helps them to achieve their transformation goal, then we're delighted that Technifold USA had the good fortune to play a small role.
As always we welcome your comments and suggestions below!