Bindery work can be a joy on those days when you figure out how to do something a little better, faster and easier. If cheaper is included, and you don't have to buy anything to do it, then everybody's happy! Fewer touches in the printing and bindery production process means higher productivity and more profitability and this concept is the driving force behind much of today's new bindery equipment and software.
Jim Murphy, Production Manager of Crescent Printing in Onalaska, WI, shared his own 'fewer touches' solution to a triple-tabbing production problem. The jobs in question are saddle stitched books, with trim sizes from 5.5 x 8.5" to 8.5 x 11", and quantities of 5,000 to 50,000 needing 3 tabs to keep them closed for mailing. The jobs run three to four times per month. Often the stitched book gets a soft fold after trimming.
The conventional way to handle this was to buy a bump-turn accessory for their mailing equipment. Of course it would first be stitched in one operation, and then tabbed in a second separate operation.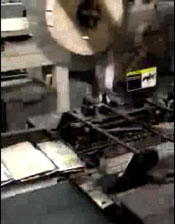 Jim looked around the shop and decided to do a little improvising with the bindery equipment he had on hand. Says Jim, "The flow turn was an old piece of equipment we took off one of our web presses that we modified for this process. The crush roller was actually an old roller from our web press that we modified to fit on our conveyor that came with the stitcher. In the past, we always had problems crushing product enough, and this solved that problem. We couldn't crush it TOO much though, or else the center pages would fall out, so, it was a balancing act. By crushing and tabbing at the same time on the stitcher, we've saved time on our mailing equipment because it runs so much better..."

Putting it all together the job runs like this:
Book is stitched normally
Book enters knife folder when re-folding (soft folding) is required
Book gets crushed as it enters conveyor
Book enters Cheshire machine for 3 tabs
Book enters stacker
Once past the initial learning curve, setup time is about 15 minutes without the soft fold and about 30 minutes with the extra fold. The net result:
One "machine" accomplishes what typically would be the work of two machines and two sets of operators.
There is also no speed penalty; the job runs at regular stitcher production speeds.
There is less handling (touches) which means less waste. If you've ever worked with soft-folded saddle stitched books, you are well aware of the logistics of handling bulky, unmanageable product.
The mailing machine runs more efficiently because of flatter product.
Take a look at the video clip below showing the rig in operation. Maybe it will provide inspiration the next time a bindery challenge comes your way (probably something you face most days!)
If you have an interesting solution or workaround to a production problem, we'd love to hear about it and see it in action. Click Here for more details on the types of bindery videos we're looking for.
As always we welcome your comments and ideas below.