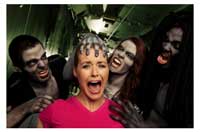 Forget television for entertainment; check out the reality show taking place in your own shop. I had an interesting encounter with a Muller saddle stitcher operator that got me thinking about the psychology of bindery equipment operators.
The production manager of this shop (and the operator's boss) had recently ordered our Spine Creaser to fit his Muller. A couple weeks after installation the manager called with some simple troubleshooting questions. We gave him a few things to try and asked some basic questions to ensure sure it was being used correctly. A day or two later another call comes, "My operator says your stuff doesn't work and wants to take it off the machine. Frankly, I don't believe him because all my friends love your product. Is there any chance you can you come in?"
Now normally we don't do in-plant visits because nearly everything can be handled efficiently via phone or email. Within problems there lie opportunities, and I thought perhaps I could learn something to make the product better, easier to understand or easier to operate and possibly get some helpful photos. His shop was just a short drive from ours and the tone in his voice indicated a sincere desire to make this work.

So I show up and out to the stitcher we go for introductions. After being shown some samples of the problems we decided to set up the cover feeder and test a couple of stocks. I reminded him to check a few items which I had previously mentioned over the phone. After five minutes or so, the first 'problem' job looked fine. The issue with register had miraculously disappeared. On to the next job; another dramatic improvement. The production manager pulls me aside and asks, "What did you do? This looks about the same as we get with a die score and the other sheets register perfectly."
"I didn't do anything. I stood by and watched your operator. We chatted a bit, but that's it! I never touched your stitcher." My very presence was all it took to force the operator to step up to the plate and do his job, to do what he already knew how to do. I didn't give him any secret bindery tip or tell him anything he didn't already know. I did learn however, that he didn't much care for change. He liked it when someone else scored the covers and all he had to do was drop them in the cover feeder and run. It was easier and it was what he was accustomed to doing.
I encouraged Muller-man to persevere through the brief learning curve and gave him my cell number in case he had any questions. The production manager seemed happy. The operator seemed…well, he seemed like an operator who had learned everything there is to learn before I ever arrived on the scene.
Fast forward a few weeks to a voice mail from the production manager, "Can you call me; I'm having a problem?" When we finally spoke a couple days later, he told me the operator 'forgot' all he had learned and was blaming everything on paper stocks, the machine or on our product. (The operator never called me.) In the meantime the manager called in a Muller technician for assistance. The end result—same story as with my visit. In a few minutes everything is miraculously running just fine; no repairs needed, no tools pulled off the machine.
What's the moral of this short bindery story? It's sad that the operator chose to draw a line in the sand with his job by closing his mind off to anything new. With an open mind he would have increased his value to the company substantially. My guess is he's not long for that job. Plenty of books and courses have been created analyzing the issue of employee performance so I'm not going to delve into that.
I never got the photos or other product improvement ideas I originally thought I'd find. Instead I took away a valuable personal lesson. Each day I ask myself if there is something I'm doing that I would never do if one of my mentors were watching. Just as my very presence was a motivator, so too I try to keep an invisible motivator standing over my shoulder, encouraging me to persist through change, unpleasantness or difficulties, encouraging me to do many of the things I already know how to do.
Of course we should continue to study how to improve workplace performance. But in the meantime we should improve the one and only thing that we can change—ourselves. We'd love to hear your experiences, successes and failures at dealing with this issue, so feel free to share below. (allow a delay for moderator approval)