This bindery tip from the "why didn't I think of that" category is a clever update on an old-timer trick that will save you lots of time when you need to score a handful of samples, mockups or even short-run digital jobs.
The original version of the scoring technique goes like this:
Bring the clamp down on your guillotine cutter.
Slide one sheet of chipboard or other cover stock up against the clamp. Anything from .010-.020" is usually sufficient, and it should be wider than the sheet being scored.
Tape the chipboard securely in position and release the clamp.
Set the back gauge in position for the score, position the stock against the back gauge and bring the clamp down. Presto…instant paper score!
With a computerized cutter it's easy to program multiple scores if needed. The technique works for nearly any kind of stock. Experiment with chipboard/cover stock thickness to compensate for the weight of paper you are scoring.
The 'high-tech' version goes like this: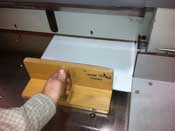 In place of chipboard, use a magnetic sheet. Simply stick the sheet to the cutter table and use a jogging block if needed, to tap it into position against the clamp. This comes to us from Joel Teel, Production Manager at Calagaz Digital & Offset Printing in AL. Teel uses a vinyl magnetic sheet about 11x15" and .035" thick that originally came to him from a vendor who produces magnetized business cards.
This technique eliminates the need to clean up tape residue afterwards and literally takes seconds to set up and dismantle. Make sure the magnet has enough area to maintain its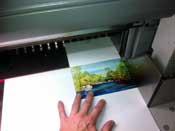 grip for the size sheet you plan to score. A bigger sheet will require a larger magnet.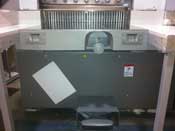 Teel also recommends cleaning the magnetic surface periodically since paper dust and dirt will diminish holding power. For easy access he simply stores the magnet on the face of the cutter directly underneath the cutting table.(left)
Although he uses a magnetic sheet with vinyl adhered to it, the vinyl may not be necessary if the magnetic material is hard enough. There are plenty of vendors online who can supply you with a variety of magnetic sheets or rolls, with a range of thicknesses and coverings available.
If this scoring technique is new to you, you owe it to yourself to try it out. Once I learned this old-style tip many years ago, I wondered how I ever got by without it.
There's no easier way to get scored samples to a customer as soon as they come off the press, before they have time to be processed normally with scoring and folding. It's also great for mock-ups (dummies) of folded brochures or books going to ad agencies and designers for approval prior to printing. And in today's fast-turn digital printing age there's no doubt that this scoring technique can be put to good use to deliver any short-run or emergency print job faster than ever.
Thanks Joel for a new twist on a bindery classic!