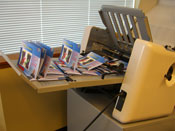 Sometimes folding the job is the easy part; jogging and delivery can be the real challenge. This is especially true with multiple-panel jobs that have a tendency to pop open the instant they leave the fold rollers.
The delivery sections on modern folders are very good and usually include independent speed controls, moveable belts, various sizes and weights of delivery wheels and an assortment of straps and other gizmos to deal with problem jobs. Even so, if you run enough jobs you'll eventually encounter one that just won't cooperate.
This technique won't win any awards for beauty or elegance, but it works like a charm. I've used it on jobs such as a 3-up, 10-panel, 35" long piece folding down to 3.5" or on a simple 4 pager on cover stock. Many years ago a folder technician arrived for a service call while we were running the 10-panel job with my make-shift delivery devices installed. Somewhat agitated with me for doing such a thing to his brand new folding machine, he insisted he could deliver the job the right way, using manufacturer-designed components only.
Being less prone to agitation and eager to learn, I graciously asked him to teach me. About two hours later he left defeated, and only after admitting that my ugly-duckling 5-cent solution worked better than anything he could do. Today there are indeed more tools to help than were available at the time. But for those times when state-of-the-art fails, it's worth taking a few minutes to try this. It works on any model and size of folding machine, new or old. (In the video we're running a Baum XLT714 right angle unit combined with a Speedcreaser.)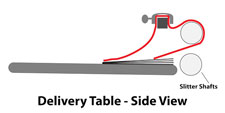 The idea is simple. Remove the delivery wheels. Replace with a few sheets of cover stock or chipboard, attached to the folding machine as shown in the drawing at left. (The video below also demonstrates this.) The technique requires some experimentation at first, with much depending on the machine and type of job being folded. Once you get the hang of it, you'll find that you can be up in running in just a couple of minutes, whether you're running a single piece or multiple-up.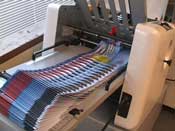 A few words of caution...
Make sure your clamps are attached securely!
Be sure everything you attach is clear of fold rollers, cutting knives, perf blades, etc.
Don't use any material that will scratch the slitter shafts.
Properly executed, you can run very difficult jobs, smoothly, neatly jogged and without the interruption of paper jams in the delivery. There are some variations on this theme which we'll probably post in the coming weeks, so be sure to check back. In the meantime click on the video to play.