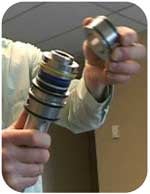 Here at Technifold USA we have a full lineup of scoring, cutting and perforating tools to fit the shafts of folding and scoring machines, saddle stitchers, perfect binders, folder gluers and more. Our high quality tools derive their precision, in part, from tight 'sliding fit' tolerances, with the ideal outcome that the tools are loose enough to slide back and forth on the shafts yet tight enough not to wobble.
With tight fitting components, it can be tricky to get the devices on. If the tool isn't held at just the right angle to the shaft, it jams on the end of the shaft. Forcing it further can cause dings and scratches. Removal of a tool that's been forced on will cause even more damage, usually to both shaft and tool.
Yet there is a simple old-time operator trick that eliminates this struggle:
Ensure the shafts and inside of the tools are clean.
Carefully install the first tool on the shaft.
Slide this tool to the very edge of the shaft, with just ¼" or so of the shaft protruding from the tool, as shown in the video.
Rest the next tool right on top of the first tool, and you'll see that the tool slides perfectly on the shaft.
Repeat as needed for each additional tool until finished.
Even small amounts of dust or tiny scratches on the shafts or inside of the devices can make it impossible to slide the accessories on to the shafts—that's how tight a good tool can be.
So be sure to give special handling to the shafts and tools for your folding or scoring machine or any other finishing equipment that uses shafts.
Wipe off dust from the shaft before removing tools
Wipe the shafts again after removing the tools and clean the inside of the tools as well
When not in use, avoid damage by hanging all tools on a pegboard or other wall-type system, rather than throwing randomly in a storage cabinet or drawer.
A good rule of thumb—everything should slide with light to moderate finger pressure. If you need a hammer to move a tool along the shaft, something's wrong! Keep a rag handy and handle your valuable tooling with the care they deserve. A tiny bit of preventive maintenance with your bindery equipment goes a very long way.