The very nature of the creasing solutions offered here at Technifold means we work with many bindery operators who crease and fold some pretty heavy cover stocks. Popular folding machines were designed to fold text papers, but folder manufacturers and clever bindery equipment operators have managed to make folding of cover stocks fairly commonplace.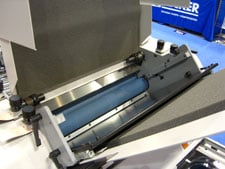 Yet there are indeed limitations imposed by fold roller diameters. Larger diameters translate to more folding capability with cover stocks. In my experience, certain 16 pt. stocks were foldable, but not without some coaxing! Generally speaking, anything above 12 pt. starts to push the limits of folding machines, and around 14 or 15 pt. you'll probably start to see the 'alligator' effect, where the surface of the paper actually cracks like ice, giving the appearance of alligator skin. (Click here for some tips on running cover stocks on your folder.)
One popular alternative for folding cover stocks is the plow folder as seen on numerous folder-gluers in which a flat, pre-creased sheet is moved through a series of belts and guides. The guides often have the appearance of plow blades, but instead of turning over dirt, they gently turn a portion of the sheet over to create a fold. The plow folder is extremely fast and ideal for high volume work, but the downside, especially for the typical commercial printer, is the number of possible folds is limited to 2 in one direction, and you can't run light text stocks.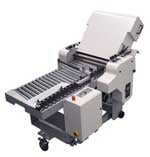 Our colleagues at Baumfolder Corporation recently showed us a buckle folder innovation that addresses this issue of heavy stock. The CF20 Folder uses a large diameter (2.75") urethane roller which imposes much less curl on the stock than conventional fold rollers. This allows for multiple folds and a variety of impositions on heavier stocks as well as on collated sets or stitched books, without the problems associated with smaller diameter fold rollers.
Some other benefits of the CF20:
Adjustable height

to match any creasing, scoring, folding machine or feeder

Independently powered

means it will work inline with any equipment
Operates either tandem inline or at a right angle to your equipment or feeder, including Technifold's Speedcreaser
Min. stock weight 16# bond (60gsm) and Max. stock weight 385gsm
The large OD roller reminds me of the folding setup on the old Harris Multibinder in which books were collated from flat sheets, stitched first, then folded and face trimmed. The large diameter rollers in the fold section were so effective on heavy stuff that we often used the binder as a re-folding machine for pre-stitched books from conventional inserter-stitchers, or for very heavy cover stocks which the folding machine couldn't handle.
The bottom line: if your bindery operation is struggling with folding heavy stocks, collated sets or re-folding stitched books, check out the Baum CF20 and talk to your local Baum rep. Or you can contact Jack Mathews at (866) 214-6516 or john.mathews@baumfolder.com and he'll steer you to the right rep for your area. To the best of our knowledge, this is the only folder of its type on the market.