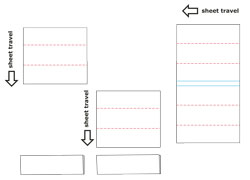 Today we will share another tip for high yield folding machine production. We'll look at trimming a 2-up job first in the parallel section, then sending it to fold 1-up in the right angle.
The layout shown indicates a sheet moving from the parallel section into a right angle equipped with a split guide; the red lines indicate the scores and subsequent folds while the blue lines indicate the trim. The first problem with this type of layout is it creates difficulty in spacing the sheets on the right angle. A conventional ¼" trim for instance, usually doesn't provide enough space to prevent jams as the sheets fold in the right angle.
A secondary problem is getting enough speed on the parallel section to force the trimmed sheets into the right angle guide while still maintaining a good separation. It can be a delicate if not impossible balancing act.

A great solution to this problem is to use a split guide from your folding machine manufacturer. Baumfolder, MBO, Stahl, Horizon and other popular floor model folding machine manufacturers have them available. (The photo shows a Baum unit.)
The ingenious split guide eliminates the problems of spacing and lets you run at very high speeds, as if you had two right angles running simultaneously. Originally the split guides were primarily used to fold text weight stocks where trimming or creasing wasn't a concern. With the advent of quality creasing and rotary trimming devices like the Tri-Creaser and Multi Tool, it's possible to handle cover stocks in the same 2-up manner as the lighter stocks. This dramatically broadens the range of materials that are candidates for 2-up processing.
There are at least five good reasons to give the split guide a second look if you've dismissed the idea in the past.
It's relatively low cost—certainly a tiny fraction of the cost of a new folding machine
It's a simple installation and setup for your operators
It delivers a big ROI with huge increases in productivity, even on moderate quantities
It reduces turnaround time substantially
It increases your net profits or gives you more flexibility in competitive pricing, capturing jobs you might not otherwise get
A split guide combined with the right
creasing
and
rotary cutting tools
will nearly double the pieces you are folding per hour. Yes there are limitations based on the size of the piece, thickness of paper and number of folds, and you're not going to use a split guide for a 5,000 quantity. Also be sure to factor in additional labor on the delivery end of the folder if you are working without an automatic stacker/bander. For moderate quantities of around 50,000 pieces and up, sharpen your pencil and take a second look. You might be surprised how quickly this can work in your favor.