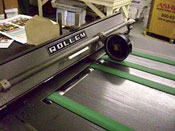 Here's one of those
"why didn't I think of that"
kind of tips. Jimmy Myers of Progress Printers in MI found himself struggling with sheet registration on the digital jobs they were scoring on their Rollem.
In a moment of inspiration, Jimmy installed a delivery wheel from his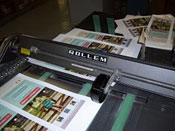 folding machine on the Rollem infeed, just before the smoother guard. (see photos) The wheel rides on top of the green belts and is positioned wherever there is curl is on the sheet. Jimmy says that instantly all their register problems disappeared.
I suspect this concept could be applied to any similar register table infeed that uses belts, often found on scoring or perforating machines and folding machines.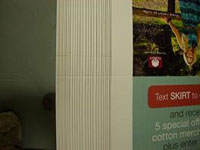 As to why this works, we can only guess at a number of reasons. It is most likely related to the curl interfering with the movement of the sheet through the machine. Sheet curl can affect register not only when it's at the side edge, but when it's anywhere across the leading edge of the sheet.
In good bindery tradition, if it works, if it's simple to implement, and it doesn't cost anything...then just do it! Progress uses Fast-Fit Tri-Creasers installed on their Rollem for scoring their digital and other work.
Thanks Jimmy for sharing this tip and photos with our readers! A check for $100.00 goes out to Jimmy for his contribution to Bindery Success.