Technifold and IPEX 2010 Busier Than Expected
In what we hope is a positive indicator for printing and print finishing business everywhere,
Tech-ni-fold's IPEX 2010 exhibit had much more traffic than anticipated, as did the show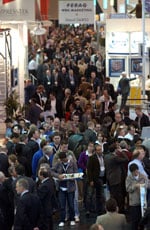 overall. We had the opportunity to help out for two days during the weeklong show and it was tough to catch a coffee break! There was no shortage of help either, with booth staff comprised of the UK contingent plus numerous Technifold dealers from around the world including Germany, Sweden, Denmark, the USA, the Czech Republic, Spain and more.
IPEX event director Trevor Crawford was "delighted with the visitor numbers which are roughly in line with 2006, despite considerable industry consolidation." Final numbers are not in, but prior to the last show day, attendance was hovering around 50,000 people from 135 countries.
According to IPEX, business done at the show was at record levels. "HP surpassed its revenue and lead generation targets as of Day Five. Xerox sold in excess of 100 digital systems at the show. Canon exceeded targets, with 250 production and light production print engines sold, supported by strong solution sales. Konica Minolta's order intake surpassed expectations, with orders taken during the first three days covering the cost of participation. Heidelberg reported orders for 140 printing units in the UK alone and AGFA generated more than 25 million euro in worldwide sales."
New Folding Machine Technologies
A brief overview of one of our favorite topics-folding machines and how to make them more productive-shows that folder automation continues to be a key focus, driven partly by the need to produce more bindery work with less skilled help. Horizon's new AFC-746F is said to hold the world speed record at 240 meters per minute and is fully automated. (FYI, that speed translates to 47,220 feet/hour, or put another way, if you're folding an 11" sheet with a 1" gap, that's 47,220 sheets/hour.) Their AF-566F at 180 m/min, is a touch-screen controlled automated folder that runs inline with continuous feed printing equipment, designed with the goal of printing and finishing digital work in one pass. Heidelberg launched it's new, fully automatic KH66 combination knife and buckle folding machine which they claim can reduce setup times by as much as 80 percent compared to their non-automated version. Speed is up to 30,000 cycles per hours at 230 meters/minute. And MBO's T765EA also features reduced setup times.
According to Graham Harris, Managing Director of Tech-ni-fold Ltd in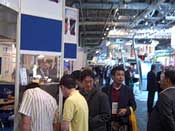 the UK, "the Tech-ni-fold stand probably couldn't have coped with many more visitors!" Technifold's popular creasing, micro perforating and rotary cutting tools always draw a show crowd and Mr. Harris plans to substantially increase the exhibit size for the next Drupa.