Soon after we started the Bindery Success Blog, I was discussing this new 'blog' stuff with a colleague of ours who owns a sizable trade bindery operation. He asked, "So, what are you going to do when you run out of stuff to talk about?" Well, nearly 200 Bindery Success Blog articles later there are still plenty of ideas in the pipeline.
I like to think of it another way. When you go to work each day, do you ever run out of stuff to talk about? Unless you're running an in-plant print shop in a silent monastic community, I'll bet there is plenty of conversation going on every single work day. There are always questions, problems, stories, tips and new technologies to talk about. That's what we do here; we listen in and we share the conversation.
One request we often get is for an archive or searchable file of articles to use as a reference. In answer to that, we've put together an excel file listing all blog articles through spring of this year.

The file includes two columns (image at left). The first is Article Titles which are clickable links to the actual articles themselves. The second column includes a brief Description.
Searching the file is easy. Click the dropdown arrow (shown circled in red in the screenshot) in the column that you wish to search. This will open a popup search box where you can enter the terms you wish to search. Click OK and it will filter the results for you. To reset the file, click the dropdown arrow again and click the "Clear filter…" option.
Articles include a wide range of reader-submitted tips, stories and musings. Some of the categories include:
Folding machine topics. Here we talk about anything and everything folding machine.
Scoring tips and scoring machine ideas
Saddle stitching tips. Includes articles on stitcher head mistakes to avoid, preventing double signatures, marking and scuffing, running envelopes and small cards, and more.
Perfect binding tips. Includes articles on UV coatings, thin books, and trimming.
Static in the Bindery
Hand work in the Bindery
Personal Development. Includes musings on the post-press life.
Cutting Practices
Business Tips
How to Download the Bindery Success Archive
Click the Download Button Below
In the popup box, either Save the zip file to your computer or Open with Explorer (or other program)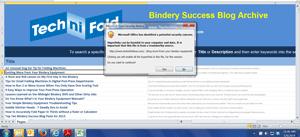 The enclosed .xls file is about 4.5mb. You might get security warnings about enabling Hyperlinks and/or Macros (screenshot at right.) If so, click Yes to continue and Enable Macros if you get a macro warning. The only thing going on is that the excel script is activating the links to make the titles clickable. But that's enough to set off alarm bells everywhere.
For you XP and Excel 2003-2007 users, the file will take about a minute to open, so be patient. In newer programs it will only take a few seconds.
Lastly, if you have problems with the archive, or if your computer gives you fits, the alternative is to use the Custom Search box at the top of every page on our site. Type your keywords there and you will get a list with blog articles usually at the top.
Please keep your questions, comments and ideas coming. If there is something you'd like to see us write about, let us know below. We'll research it. If you'd like to contribute a post-press article, we'd love to read what you have in mind! Just use the Contact Us form to send us an email.
A few years ago there was a TV commercial where a fellow is happily surfing the internet. An urgent warning stops him in his tracks, "Alert! You have reached the end of the internet. You have seen everything there is to see. Please go back…now." Somehow, I think we're far, far away from reaching the end of bindery and printing stuff to talk about. If you think it's all been covered, let me know below. Then I'll probably write an article about it…and then someone will have something to say about it.