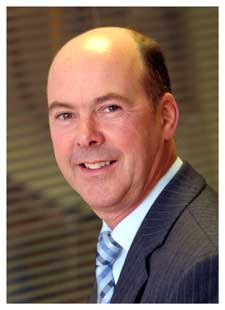 It seems that outside of family, we only have a handful of people we truly consider important. Just a few friends, mentors or colleagues stand out when we look back on our lives. Paul Barrett, the National Sales Technician for Tech-ni-fold Ltd in the UK is, for me, one of those people.
Most of you won't know Paul by name, but tens of thousands of people around the world know him by the fruits of his labors. Paul is the man behind the scenes who was instrumental in developing over 400 versions of Tech-ni-fold's creasing, perforating and rotary cutting tools for nearly every make of folding machine, scoring machine, saddle stitcher, perfect binder and web press finishing line. He is also co-inventor with Graham Harris of the Fast Fit Tri-Creaser. He's the man behind the scenes answering tech questions and researching new print finishing problems and opportunities.
This past weekend more than 80 colleagues, friends and family from countries around the world gathered in England for a surprise retirement party for Paul. Gina, Sharon and I were privileged to represent Technifold USA at the gala event.
The whirlwind weekend trip was all made worthwhile as we watched Paul enter the room. Under the impression that he was going to a small retirement dinner with a handful of his work colleagues, his face moved from astonishment to tears as he took in the friendly faces filling the room, all rising to applaud.
The miracle is that six months of planning preparations, much of it right under his nose, went entirely unnoticed by Paul. The videographer made frequent visits to their office to plan the party retirement video. (He did wonder what video was being worked on since he's involved in most of them.) Co-workers casually laid cell phones on his desk to record him answering phone calls so his voice could be used in the video.
In his usual self-deprecating manner he joked at the party that this was a reflection of how dense he was. I know from experience that it's really a testament to his incredible focus. He simply tunes out distractions to focus on the work at hand.
It is, and has always been, a pleasure to work with Paul. He answers questions like it's a privilege for him to do so, even if it's something he's been asked dozens of times. Never do I hear an impatient tone. Whether it's me or someone else, whoever he is talking to is the most important person in the world for that moment.
Over the years, many of you reading have asked us "Can you make a creasing tool for such-and-such a machine?" Paul is the one I'd turn to for an answer. In 2002 we had just a handful of Tri-Creasers to fit a few folding machines. Thanks in large part to Paul's responsiveness to countless product requests, we now have about 460 versions of our bindery products available for a wide range of post-press equipment.
During our first visits to England to get to know the products better, and when we could ill-afford such an international trip, Paul and his wife Janet were gracious enough to invite us to stay with them in their home. He didn't have to, but that's how a generous heart works.
Never fear, Paul still has a place to hang his hat. He's not finished with his full-time work until May and after that he'll be around the Tech-ni-fold Ltd. office two days a week. They're not going to let him go that easily!
Thank you Paul for everything over the years, and best wishes for nothing but the finest in your upcoming retirement. Lest you think we're going to get too sappy, we'll leave you with this tongue-in-cheek video tribute we did in his honor. And if you'd like to leave him a little farewell message, feel free to use the comment box below.