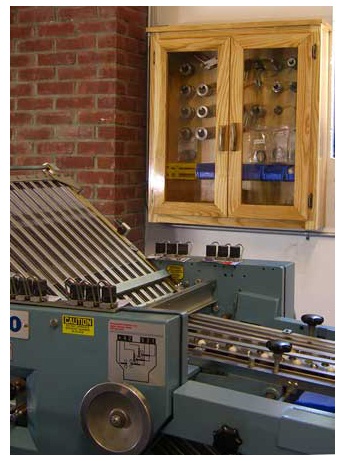 I can already hear the protests: "I'm a creative person, comfortable in my clutter. I can find anything I need in seconds." Or, "I can't be something that's opposite my personality." The excuses are OK if you work alone and clients will never see your work area. But if you work on bindery equipment or in a print shop environment, all the excuses have to give way to seven reasons why you should be organized.
I confess I'm a bit of a Jekyll and Hyde character when it comes to organization. You won't, for instance, see a picture of the chaos on my desk. (No, I can't find anything in seconds.) But you will see a photo of the cabinet I just put up to organize all the folding machine accessories for our MBO and Baumfolder equipment.(photo at right) I quickly learned years ago that being organized at work always makes it so much easier to be effective.
If you've been procrastinating about getting organized, here are seven compelling reasons to do it right away.
1) Setup jobs Faster
All tools should be organized so you can get to them easily and in the shortest amount of time possible. If your company practices Lean manufacturing, you already know this.
2) Reduce Downtime
You'll have less downtime looking for something when you need to replace a consumable. Murphy's Laws rule here too; you'll spend the most amount of time looking for an item when you have the least amount of time available.
3) Inventory Management is Easier
When you can see and count what you have, it's easier to avoid running out of necessary consumable items such as slitters, counter knives, creasing ribs, perf anvils, drill bits, etc.
4) Extend Tool and Consumable Life
I've been in many shops where valuable tools are tossed in a drawer or a corrugated box. Scratches don't usually do much harm but minor dings can render a precision tool such as the Tri-Creaser or Micro Perforator unusable. It can prevent installation of tools on the slitter shafts. A dent to the metal channel of a scoring or creasing tool will make that channel unusable. A chipped cutting edge of a drill bit or slitter will probably ruin it for good.
5) Reassure Clients and Prospective Clients
A printing shop that's organized from front to back lets the customer know that his job will likely be handled with professional attention to detail. Just as you wouldn't want to eat in a restaurant with a dirty kitchen, a new client may question whether they should do business with you if they tour a sloppy shop.
Although as our very own Gina (the voice of Technifold USA and a Registered Dietician by education) reminds me, "It is not the kitchen that you will see, but the bathroom and frankly, if the bathrooms are dirty, you can bet your bottom dollar the kitchen is filthy!"
6) Safety
Try rooting through a box full of slitter and perf blades without cutting yourself.
7) Morale
Unless all your co-workers are like Jeff Bridges' character The Dude in The Big Lebowski, in other words inclined towards the slothful side of life, they'll feel good about arriving to work in a neat and clean environment.
The "How" of getting organized really depends on the unique requirements of your job, your equipment, and your shop. So you'll have to put your thinking cap on to figure out the best way to get organized. The good news is that there are plenty of resources, tools and paraphernalia available to help you. You can even hire people to do it for you if you can't stand the thought of organizing!
The folder accessory cabinet (above and first photo below), with plexiglass in the doors, was custom made by Amish carpenters for $300. I simply drilled holes in the back, added Tee Nuts and screwed in some threaded aluminum standoffs. (drawing at right) But you don't have to get fancy. You could easily find a low-cost kitchen cabinet and add pegboard and hooks, or wooden dowels, or whatever comes to mind.
I've included two additional photos below submitted by Reno A. Cyr, Sr., a bindery equipment operator at JS McCarthy. You can see he puts thought into having tools and consumables where needed and uses every inch of available space to get organized. Hopefully these will inspire you to come up with your own simple, effective solutions.
If you have a workspace you're proud of, or not so proud of, feel free to tell us about it below. If you'd like to send photos we'll consider using them in an upcoming bindery eBook. Use the Contact Us form to let us know and we'll tell you where to email them.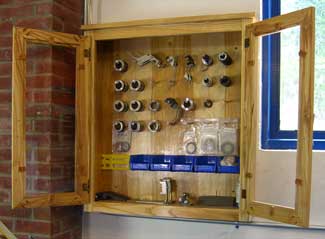 Paper folding machine accessories organized in simple cabinet.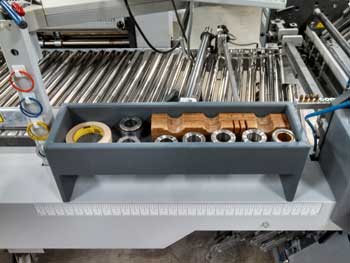 Folder accessories organized and added where needed on Stahl folder. (above) Bindery workspace area near the same Stahl folding machine. (below) Thanks to Reno A. Cyr, Sr for these two photos.