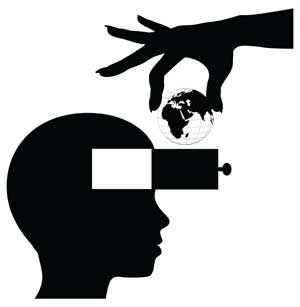 One of the great ways to add value to any given print job is to do more with it after it's printed. Another way is to produce it more efficiently. Here are seven in-depth resources to help you do some of each.
These are trade binderies, bindery equipment manufacturers, and a paper company I've encountered online or worked with in person. They all have freely available resources to help with your search for:
Post-press troubleshooting tips
Print finishing planning and preparation ideas
Bindery equipment training
What's new in finishing
Print finishing educational material
Most of them also include regular updates. So here they are in no particular order.
Rickard Bindery
Rickard Bindery is a Chicago-based trade bindery with a special strength in folding. According to their site Rickard has "carefully carved a reputation for solving 'everyday' and 'impossible' post-press challenges…one job at a time. Services include all kinds of miniature, oversized, map and gate folding, with nearly 80 machines at their disposal. They also handle saddle and loop stitching, automatic attaching, padding, stringing, and too much else to list here.
Their Helpful Hints page is a great resource for understanding how and why to use various value-added processes. Included are such articles as:
Why Use Attaching Services?
Inline Die Cutting (on folders and saddle stitching machines)
Big Ideas Need Big Folding Machines
In addition, Jack and Kevin Rickard, President and VP respectively, have written many articles on technical processes and graphic arts management issues. Their index of Published Articles includes Know When to Fold 'Em, Saddle Stitching—Ride the Big Horse, and A Dozen Tips for Folding Excellence and more.
Muscle Bound Bindery
Specializing in case binding, perfect binding, layflat perfect binding, and related bindery services, Muscle Bound Bindery has an extensive list of educational and production articles here on their Helpful Bindery Tips page. By the time you're done reading you'll know a lot about hard binding and perfect binding technologies.
If your job requires you to purchase services from trade binderies, their tips will make your job easier.
Bindagraphics
The Baltimore-based Bindagraphics, Inc. is, according to their website, the largest trade bindery on the east coast. They offer a huge array of binding, finishing, packaging, and specialty finishing services.
Their Bindery Technical Tips page discusses the ins and outs of many of the services they offer. Topics include perfect and lay-flat binding, stitching, mechanical binding, UV coating, laminating, foil stamping, gluing, and hi-die projects.
They also have a large index of bindery articles written by Marty Anson, CEO of Bindagraphics. We first met Marty at Drupa, where he first discovered the Tri-Creaser®, and have since seen him at trade shows around the world. His trade show attendance reveals his intent to stay current in the industry.
He shares his knowledge and 40+ years of experience in these articles. Vital topics include Planning Your Binding Job, Binding Basics, Multimedia Packaging, Mailing, Adhesives in the Binding Process, Quality Control, and more.
Baumfolder
Baumfolder Corporation has a good library, obviously geared towards their own machines. You can download manuals for all of their equipment on their Baumfolder Manuals page and find answers to frequently asked Baum questions here.
The Something to Use page has a useful mix of general folder basics and setup information. Also included is more advanced operational information on folders, cutters, gatefolds, static, and more.
Polar
This cutter manufacturer has an interesting online Interactive Training Program suitable for trainees and apprentices in guillotine cutting. Topics include cutting machine basics, cutter safety, and programming. It also has useful training exercises to help new operators understand and determine the best cutting sequences. Think you're good at cutting? Try the exercises and see how you fare against the cutting wizards at Polar.
Sappi Paper
No discussion of bindery and post-press issues is possible without an understanding of paper. Sappi Paper has an extensive resource of articles, videos and printed material available on their Education Page . It includes The Standard, a design and production publication that focuses on different topics each issue. "Print &" is a publication discussing "the future of print in the digital age."
For detailed educational and technical articles, visit their Professional Bookshelf. Their Technical Publications and Technical Tips have a wealth of information available for both novice and expert in printing and print finishing.
Kluge
Brandtjen & Kluge, Inc. manufactures an array of finishing equipment to handle foil stamping, folder gluer applications, embossing, diecutting, paper handling, and UV coating.
Their Tips & Resources page has a wealth of information geared towards anyone who has a vested interest in print finishing projects. This includes a tip section for Kluge users, general Tech Tips, Designer Resources, and an FAQ section.
It's a useful mix of how-to and educational articles. Some titles available for download or online reading include:
Press Tip: Image Placement for Multi-Pass Jobs
Folder Gluer Production Format Booklet
Embossing and Foil Stamping: Techniques Made Easy
FSEA – The Designer's Guide to Foil Stamping and Embossing
If you're a visual learner, there is also an extensive collection of videos. Whether you're a Kluge operator or you just want to learn about these niches of post-press work, dig in and search around.
This is certainly not a comprehensive list. In effect you get to tap into hundreds of years of insider bindery experience and knowledge. It will keep you busy for a while and there is always something to learn.
There are also some good trade associations with plenty of helpful material available. We mentioned those in a previous article, 5 Essential Sources of Post-Press Inspiration. Check it out when you get a chance.
Please feel free to share any other good resources below or use the Contact Us form to email us. If we get enough suggestions we'll compile them in an ebook and make it available here on the Bindery Success Blog.
Thanks for reading, and be sure to share this article with your colleagues if you liked it, or even if it irritated you!