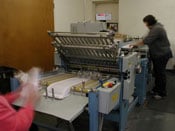 Using your folding machine for digital, short-run jobs can be a nuisance. It often takes longer to set up the paper folder than it takes to run the job. And if your folder operator makes a mistake or has a paper jam, an entire digital print job can be ruined in the blink of an eye!
If you don't have a folding machine, then you definitely want to pick up this old-school bindery technique. It's ideal for in-plant printing departments or copy shops that don't have a lot of finishing equipment, and it will leave your colleagues wondering how you got the work done so quickly!
I'm not sure where or when it originated but this vintage bindery technique is probably one you'll use no matter how much, or how little, print finishing automation you have in your shop.
Here's how to fold these jobs fast without the use of a paper folder. The technique works best on cover stocks, from around 6-7 pt. and up. The job has to be pre-scored or creased in some fashion, whether on a scoring machine, printing press or hand creasing machine. If you're folding paper lighter than 6 point (.006") you definitely need to invest in a folding machine.
Once you get the hang of it, you'll find it simple to fold hundreds of printed brochures in just minutes. This is especially useful when dealing with lots of digital printing jobs that have different trim sizes.
As you'll see, it works best on short-run single-fold jobs but you can still use part of this technique for faster folding on two or three-fold jobs as well.