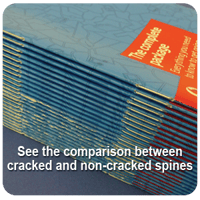 Looking to transform your current Saddle Stitcher's Cover Feeder into a Powerful Cylinder Creasing Machine?
Do you score covers for your saddle stitched books in a separate, offline operation?

Do you suffer with cracked spines on your saddle stitched book covers?

Do you send covers out for creasing (scoring) before running them through your stitcher?

If you answered "yes" to any question above, the Technifold Spine-Creaser for saddle stitching machines could be for you. With a Spine-Creaser installed on your cover feeder, you'll eliminate time-consuming and costly offline creasing operations or outsourcing. And you'll get rid of fiber cracking too!