Spine-Hinge Creaser for Folding Machines - FAQs and Technical Support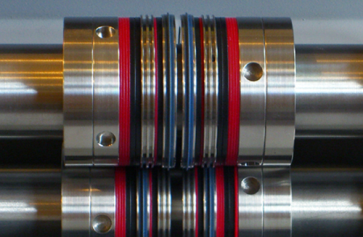 The Spine-Hinge Creaser fits the slitter shafts of many popular MBO, Stahl, and GUK folding machines as well as the Technifold Speeedcreaser.
If you are just getting started, or have basic product questions, review the FAQs (Frequently Asked Questions) below for answers. You can download basic installation instructions and tips using the links below. If you have general operating questions or problems, refer the Troubleshooting Questions section below.
If you can't find the answer below, please feel free to use our Contact Form to email your question. Be sure to include as much detail as possible. We'll get back to you as quickly as possible the same business day, usually within a few hours.
Instruction Manuals and Tip Sheets:
Spine-Hinge Creaser for Folding Machines

Adjustable Spine Hinge Creaser - Instructions, Tips, and FAQs
The Adjustable version as shown in the photo above lets you change both the spine and hinge width as needed. Additionally you can crease simultaneously from the opposite sides of the sheet (2 creases on one side and 2 on the opposite) or you can put all 4 creases on the same side.
This guide is for MBO or Stahl folders with 35mm shafts, MBO 30mm, or 36mm Technifold Speedcreaser.
Fixed Spine-Hinge Creaser for 25mm Stahl or CreaseStream Mini
This version has a fixed 6mm (1/4") hinge width. Spine width is adjustable as needed. 2 creases are applied from one side of the sheet and 2 from the other side.
Basic Product FAQs: Spine-Hinge Creaser for Folding Machines

Which side of the sheet do I crease?
Technically, the correct way to score the sheet in order to eliminate fiber cracking is the same as with a die score—the male should be hitting the outside (face) of the cover, so that the fold is going away from the male. So the spines should be scored from one side, the hinges from the other side. (photo right)
However, sometimes customer preference dictates how you crease (score) a particular sheet.

A Tip: experiment with various crease settings to find out what works best for the jobs that you run. Then use the enclosed Crease Setting Log to keep a record of what setting works best.

What if I still get fiber cracking?
Be sure to experiment with different creasing ribs and different female channels. For instance, an 80# cover from one mill might require a different setting than an 80# cover from another mill. Also check that the female components are centered correctly. See directions for the simple centering procedure.

How long should the creasing ribs last?
The creasing ribs should last 1/2 million to 1 million sheets or more, depending on the weight of paper. Use the minimum pressure necessary to get a good crease. A deeper crease is not necessarily better for eliminating fiber cracking. It might be better to go to a different creasing rib rather than apply excessive pressure.

When do I have to re-center the female components?
Whenever you move any component to a new position you need to re-center that male/female pair. Don't forget this important step!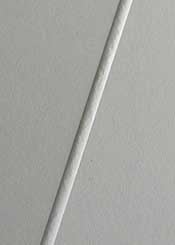 What range of papers can I crease?
In general, the Adjustable Spine-Hinge Creaser should work on stocks from about 50- 60# cover up through 14-16pt. Depending on the stock and grain direction, it's likely you can also crease text-weight papers with considerable success.
The fixed version for 25mm shafts will handle paper from about 60# cover (6 pt. or so) up through about 14 pt.
Paper varies substantially so feel free to experiment no matter what type of paper stock you are running.

What Does a Good Crease Look Like?
The inside bead of the crease should be smoothly rounded as shown in photo at right.
If visible tears start to appear, you probably have too much pressure. The outside of the crease should also be smooth and free of cracking or tearing. Adjust the slitter shaft gap (pressure) as needed to get this result. Avoid tearing or wrinkling.

Troubleshooting Questions: Spine-Hinge Creaser for Folding Machines

Be sure to download and read the appropriate instruction guide and tips in the manuals listed above. Or check the package your device was shipped in to review any manuals and tips enclosed.
If these don't answer your question or solve your problem, then email us using the Contact Us form. We'll get back to you with an answer the same business day, or the following business day if it's a weekend or holiday.