Return on Investment with the Web Creaser
ROI with the Web Creaser typically takes just a few jobs, and could even put you in the black in as little as one job. As you know, web press and web finishing installations vary quite a bit, in both offset and flexo applications as do job quantities, folding requirements, paper, coatings and more.
To figure out your ROI simply send us your inquiry with the form at right and we'll get back to you as quickly as possible. Or you can contact our Sales Office at 973-383-7920 M-F 10-4 eastern. We'll look at your particular production (in strictest confidence) and suggest the ideal options for your shop, including an estimated ROI.
3 Easy to Install Hardware Options...
One - the Web Creaser Standard Kit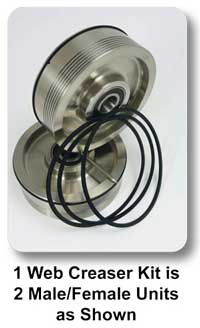 Includes...
2 each interchangeable Male/Female units
10 Creasing Ribs
Your shop's engineers or operators install on web press accessory holders of your choosing.
Then mount to available shafts in appropriate section of web press or web finishing unit.
Simple installation can be explained over the phone to any capable operator or shop engineer.
Two - the Web Creaser Plus Holder/Pneumatic Actuator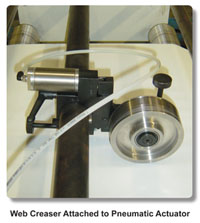 Includes...
1 Web Creaser Kit as shown above
1 Holder which attaches Web Creaser to your press or finishing unit
Pneumatic actuator as part of the holder. This can be tied in to your press controls as needed for automatic or manual engage/disengage
Micro adjustment to control depth of crease
Micro adjustment to control side-to-side movement...ensures crease is perfectly centered in the female channel
Three - the *NEW* Web Creaser Cartridge Assembly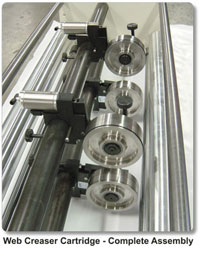 Includes...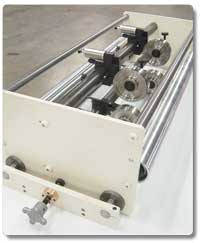 the Web Creaser Cartridge, a complete module that plugs in to your web press or web finishing system where needed
The Web Creaser Standard Kits (quantity as needed)
Pneumatic actuated holders installed in the cartridge with Web Creasers attached
Installation available.
Unlimited tech support via phone.
For More Information on the Web Creasers...
For More Information, or to get Your Free Web Creaser Consultation contact our Sales Office at 973-383-7920 M-F 10-4 eastern or email us your questions here.