The Speedcreaser™ from Technifold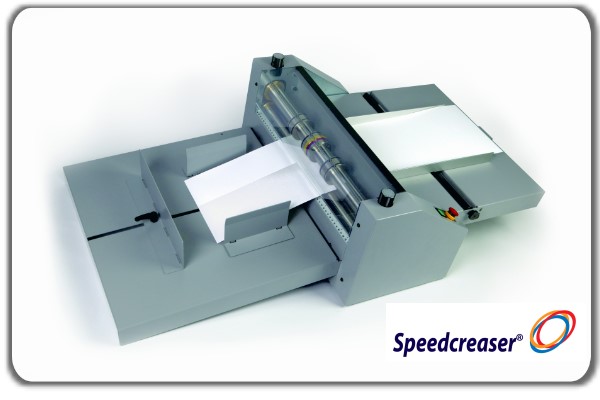 The first and only bench top, hand-fed rotary creasing machine to give a letterpress quality crease...
If you send jobs out for scoring or micro-perforating, or do them on press, or even if you have a letterpress or die cutter in your shop, now there is a faster way to deliver them, without the need for skilled help. The Speedcreaser™ puts industrial-strength letterpress quality at your fingertips in a small, tabletop format.
The Speedcreaser™ puts industrial strength letterpress quality at your fingertips in a small table-top format!

Currently available in manual feed version only. Produces 3,000-5,000 sheets per hour.
Totally eliminate fiber cracking, even on digital stocks, regardless of grain direction
Choose from any one of 8 crease styles to suit every range of stock,not restricted
to wide setting
Produce simultaneous multiple crease, micro-

perf

and cutting without affecting speed
Apply crease of micro-

perfs

to either side of sheet, or both at the same time
Produce flat, nearly invisible micro perforations that let sheets run through any
laser printer or copier
Crease paper from

90# text up through 16 pt.

- even works on many
60-70# text digital stocks!
Finish short-run jobs in minutes
Eliminate scoring and

perf

orating outsourcing

Run in line with folding or finishing equipment




Special features & benefits of the Speedcreaser™:
Heavy duty 36mm shafts with precise micro adjustments for any stock thickness
Double side-lays on the in-feed for precise sheet guidance.
Includes both micro-skew, square-screw adjustments (to instantly move the sheet one way or the other) and micro side-lay adjustment (precisely moves the sheet from side to side for fine-tuning position)
Handles sheets up to 19 inches (48cm) wide
Uses

proven

, tested and reliable

Tri

-Creaser™ EZ-Fit technology for

perfect creasing

3 creasing rib profiles and 8 female channels deliver the ultimate in creasing flexibility. You're not stuck with a big,

oversized

crease on a light-weight stock. Get the right width/depth combination for the stock you're running
You can add up to 8 creasing or micro perforating tools to get multiple crease/

perf

production in a single pass. This means you get unbeatable speed compared to knife/matrix machines. Plus a variety of specialty tools available, including one for perfect bound book covers



Would you like to learn more about the

Speedcreaser

TM?
Check out these time saving tips from our Blog!!